Jim From The Office Could Be Captain America?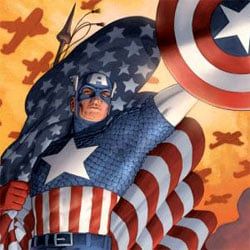 Deadline, like everyone else, claims to know the names of the actors in contention to play Captain American in Joe Johnston's upcoming First Avenger movie. Their list is full mostly of unknowns but does, bizarrely, include The Office's John Krasinski. Jim as a superhero? Sorry Deadline, I've got a hard time believing in that possibility. They also Garrett Hedlund, the currently unknown but soon to be famous star of Tron: Legacy. That at least makes sense.
Here's the list:
More interesting than that only vaguely believable shortlist is the notion that whoever gets the job will end up signing a deal which includes an option for an eye-popping 9 future films. Those would include sequels, other Avengers movies, and pretty much anything else wants. That's good news really, proof of Marvel's commitment to create a superhero universe which has real continuity. Captain America, as the leader of the Avengers, is the lynchpin in all of that. It may not be particularly good news for whoever gets the job though, since word is that the lesser knowns on the list would only make around $300,000 for the first film.
Your Daily Blend of Entertainment News
Thank you for signing up to CinemaBlend. You will receive a verification email shortly.
There was a problem. Please refresh the page and try again.