Joe Johnston's Not Safe For Work Adds Captain America Actor JJ Feild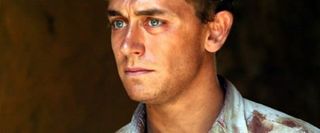 One of the best superhero flicks last summer was Joe Johnston's Captain America. And while Chris Evans's Steve Rogers is busy going big in Joss Whedon's Avengers, Johnston decided to take the opposite approach with his next project. The director's followup to the First Avenger will be a small actioner called Not Safe For Work and he just recruited one of his Howling Commandos, J.J. Feild, to join the film.
Variety reports that Feild as well as Christian Clemenson and Tom Gallop were cast in Johnston's Not Safe For Work. And before anyone plays Mr./Mrs. Smart, I'm aware that Feild's character, James Montgomery Falsworth, is the original Union Jack and technically part of the Invaders but he was lumped into the Commandos for Johnston's adaptation of Captain America. And if you missed the comic book flick, you may have seen the actor with Michael Fassbender in Neil Marshall's Centurion.
As for the other two, Clemenson is an Emmy Award winning actor (for his work on Boston Legal) and can currently be seen on CSI Miami while Gallop is probably best known for his role alongside Joan Allen in the Bourne sequels. No real specifics on who the actors will play in the film written by British screenwriters Adam Mason and Simon Boyes, a pair who primarily write (and direct) small horror flicks.
Not Safe for Work is about a young paralegal who's trapped in his office building with a ruthless killer sent to destroy some sensitive files. Sounds a little like the end of Michael Mann's Collateral (which earned Jamie Foxx an Oscar nomination and saw Tom Cruise play the villain). For Johnston's NSFW thriller, The Social Network's Max Minghella is in place to play the lead paralegal with Eloise Mumford also already cast as his co-worker and girlfriend.
Your Daily Blend of Entertainment News
Your Daily Blend of Entertainment News
Thank you for signing up to CinemaBlend. You will receive a verification email shortly.
There was a problem. Please refresh the page and try again.