Joe Wright Becomes Frontrunner for Fifty Shades Of Grey Director's Chair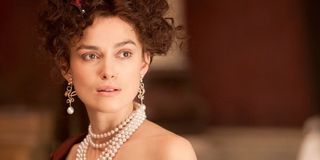 Between its widespread popularity and steamy subject matter of the novel, a movie version of E.L. James' Fifty Shades of Grey has been a hot topic for over a year now. Who will star!? Who will helm? While Krysten Ritter and Mila Kunis have leaned in to potentially playing the female lead of Anastasia Steele, Emma Watson has flatly denied rumors she was in contention for the part. As for directors, Angelina Jolie was rumored. Then Gus Van Sant lobbied for the job, now THR reports Bennett Miller (Money Ball) and Patty Jenkins (Monster) are also being considered. But the frontrunner is reportedly Joe Wright.
The English auteur has been responsible for three lusciously realized adaptations of heartbreaking romances, the Academy Award-winning Atonement, the BAFTA-winning Pride & Prejudice, and insanely sumptuous Oscar winner Anna Karenina. So, it makes some simple sense that he'd be considered for the Fifty Shades of Grey movie adaptation. It is a romance, though more modern in setting and--let's say--tone than his previous works. Adding to Wright's momentum for the project is his close connection with Focus Features, which had a hand in four of Wright's films so far, and owns the rights to Fifty Shades of Grey.
It's worth noting that no deal is said to be in place; it's just that Wright is being considered the favorite by "multiple sources." This doesn't mean he'll actually sign on. I'm hoping he won't.
Wright has proven to be an astoundingly original filmmaker with an incredible skill at capturing complex character portraits and conflicted tales of love. This makes him an obvious choice for the Fifty Shades of Grey adaptation, plus his involvement could add an air of prestige to the project it may well need. But as someone who attempted to read the novel (I admit, I got bored and quit), I'm crestfallen at the idea of Wright focusing on this particular love story. It just doesn't seem ambitious enough in scope to be worth his time.
Focus, go with Van Sant. He's not afraid of sexually taboo topics, and he wants this so bad he (allegedly) made his own spec shoot for it. Leave Wright out of it.
This poll is no longer available.
Staff writer at CinemaBlend.
Your Daily Blend of Entertainment News
Thank you for signing up to CinemaBlend. You will receive a verification email shortly.
There was a problem. Please refresh the page and try again.