John Boyega Reveals His Favorite Scene From The Star Wars Saga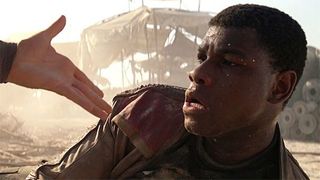 Like many of us, John Boyega has never lived in a world without Star Wars (I was alive for like two whole weeks on a planet where there was no Star Wars), though that certainly hasn't stopped him from being a fan. Appearing in Star Wars: The Force Awakens is the culmination of a lifelong dream, and as with most fans, he has a favorite moment, which he recently shared with the world at large.
With the final trailer in the books and the final marketing push kicking off in earnest, there has been a lot of interest in Boyega and the other key new additions to the beloved space opera. In a new feature from CNET, the 23-year-old Brit revealed his favorite bit of the original films. He said:
This is certainly one of the funniest bits from the six existing Star Wars, and it happens when Han and Luke, dressed as stormtroopers, get into a shootout in a control room on the Death Star in A New Hope. The blaster fire sets off an alarm, and when an Imperial official calls over the intercom, let's just say Han doesn't make a convincing government stooge. Apparently the guy on the other end of the line doesn't buy Han's improvised, "We're all fine here now, thank you. How are you?" bit, and his frustration manifests by blasting the hell out of the intercom.
Check out the scene in question below.
While we don't know a ton about the plot of Star Wars: The Force Awakens, we do know that John Boyega's character Finn plays a central part in the action. He is a stormtrooper in the First Order, the new version of the Galactic Empire, who decides he'd rather not be a mindless, white-suited goon, and when he goes AWOL, he encounters Daisy Ridley's character Rey. From there the two embark on the grand adventure that is The Force Awakens.
Though there are tons of fan theories, including competing ones that suppose either Rey or Finn is actually a Jedi, there aren't many concrete details about their characters. Despite all the rumors and possible leaks, director J.J. Abrams and Lucasfilm have managed to keep a pretty tight lid on things, no easy feat considering how hungry everyone is for details.
We'll finally find out the answers to the countless questions we have when Star Wars: The Force Awakens opens everywhere on December 18.
Your Daily Blend of Entertainment News
Thank you for signing up to CinemaBlend. You will receive a verification email shortly.
There was a problem. Please refresh the page and try again.