John Carter Cost Even More Money To Make Than We Thought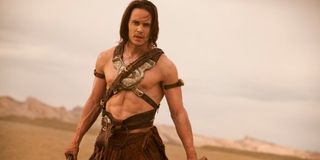 John Carter is widely regarded as one of the biggest cinematic flops of recent years. It was previously believed that it lost Disney just under $300 million, but this figure has just increased after it was revealed that the Disney blockbuster actually cost Walt Disney Company $306.6 million to make.
Disney had previously withheld the true cost of John Carter, with many experts having previously suggested that its production value was in the $250 million range. The fact that it actually eclipsed this sum by $56.6 million means that Disney's losses on the film are even more substantial than previously estimated. According to Forbes, these new figures were gathered after the British tax authority revealed they had paid Disney $42.9 million to film John Carter in London. Disney was forced to declare their John Carter costs because of Britain's tax credit scheme. They had tried to hide how much they spent on the film by giving it the code name Think Thark Productions. But Think Thark Productions is actually named after Martians that are in the John Carter book, so it was easy to spot that the total costs to this fake company over four sets of financial statements between 2010 and 2013 came to $306.6 million.
Director Andrew Stanton began shooting his adaptation of Edgar Rice Burroughs' A Princess Of Mars, with Taylor Kitsch as the eponymous lead, in the English capital back in January 2010. However production problems, which allegedly saw Stanton re-shoot much of the movie twice, soon saw the budget spiral out of control. In fact when the film was finally completed, it was estimated that (after marketing costs) John Carter would have needed to gross more than $600 million just to break even.
This was a figure that it didn't even come close to reaching. A poor marketing campaign, early release date, and mediocre reviews, which praised its visual flair but criticized its dense plotting and tepid characteriaation, resulted in moviegoers avoiding John Carterat the multiplexes. In the U.S., it only grossed $73.1 million during its run. However, its international appeal actually saw it take in $211 million across other countries. In Russia, John Carter even went on to break the all-time opening-day record, while it recorded the second-best opening weekend for a Disney film in China too.
But its dismal performance in the United States meant that gossip and rumor surrounding its actual budget and total loss soon started to become ferocious. Experts and passive movie fans couldn't help but be intrigued by the amount of money that the studio lost. The personal cost of the film was also massive. Rich Ross, the former chairman of Walt Disney Studios, decided to resign just a month after the film was released, while Disney also lost the rights to the rest of Edgar Rice Burroughs Inc's back catalogue after they refused to produce sequels to John Carter because of its failure. However the fact that The Avengers went on to gross $1.5 billion just two months after John Carter's release meant that Disney were able to quickly get over its dismal performance.
Your Daily Blend of Entertainment News