Taylor Kitsch Offered The Lead Role In The Raid Remake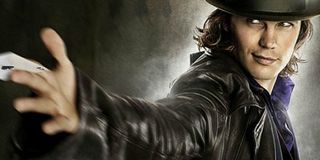 Are you a good looking, decently athletic male leading man? Do you love the feeling of getting the crap kicked out of you repeatedly, take after take, by stuntmen who have no mercy for your whining? Well then, your name might be Taylor Kitsch, because that's exactly who is now up to tackle the English-language remake of The Raid.
The Wrap reports that John Carter himself, Taylor Kitsch, has been offered the lead role in The Raid remake. Directed by Patrick Hughes (The Expendables 3), the remake is being penned by Brad Inglesby (Out Of The Furnace), and is slated to start shooting in January. This is all happening while Kitsch is also trying to grab a lead role in the second season of HBO's True Detective, which starts shooting this fall and wraps right before the martial arts remake starts up. So Kitsch is currently trying to find a way to have his cake and eat it too. And then and the end of the cake-eating, get beat up by a bunch of stuntmen.
Kitsch is an interesting choice. For one, it ends the film's reported flirtation with the Hemsworth brothers, who originally were eyed to play the leads. For another, it means that this film won't be getting a bigger budget any time soon. Kitsch is still smarting from 2012, where he fronted John Carter, Savages and Battleship. He's not necessarily bankable to the studios, but Screen Gems will take a chance on his unrealized potential as a marquee attraction. He's still young and super handsome, and did eventually star in a hit film when he popped up in Lone Survivor. He was the body flying towards the camera whilst being shot at. No, the other one. No, not that guy, the other other one.
Kitsch will either be working with, or against Frank Grillo in the redo, which is said to hew closely to the original. In case you haven't seen the original, and you are an action junkie, rent it as soon as you can, and quit worrying over subtitles. The story involves a mobster who has taken over a high rise, forcing a SWAT team trapped inside to make their way to the top. Yes, you've played a video game like this once. Grillo is probably playing the grizzled police chief who isn't what he seems – if so, he'll likely get a far more badass sendoff than the first guy to play the role, as Grillo is an accomplished martial artist and all-around badass. Kitsch is going to have his work cut out for him. Unless Dolph Lundgren is cast as Kitsch's brother, Grillo could wipe the floor with that pretty boy. That's not necessarily a swipe at Kitsch. Grillo's just that sort of guy.
Your Daily Blend of Entertainment News
Thank you for signing up to CinemaBlend. You will receive a verification email shortly.
There was a problem. Please refresh the page and try again.