John Gotti Jr. Working On A Biopic About His Mobster Father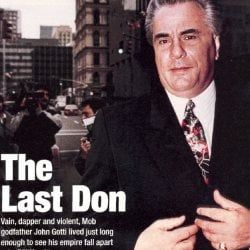 There's probably an interesting movie to be made about the life of John Gotti, the mobster head of the Gambino crime family who died in prison 2002. But I'm not sure that John Gotti, Jr. is the one to make it. The son of one of the modern era's most famous gangsters has enlisted actor Leo Rossi to write a script about his father's life, and New York-based Fiore Films will be producing the biopic, which will focus around the son's last visit to his father in prison.
Gotti Jr. told Variety "the story's about redemption," and emphasized the extent to which he's turned his own life around since being accused of racketeering several times in the last decade. Gotti Jr. also said the movie won't be "an expose of the mob or a shoot-em-up," which really brings up the question of what it will be, other than a hagiography about a man by the son who shares his name.
Producer Marc Fiore is aiming to start shooting in the first half of next year, and though Sylvester Stallone was seen meeting with Gotti Jr. in Los Angeles last summer, no talent is attached. It sounds like the whole production will be fairly small scale, and it's hard to imagine Stallone using his Expendables clout to sign on to a project over which he has little control. So any Italian-American men who ever wanted to be the Don without actually being a criminal-- now's your chance!
Staff Writer at CinemaBlend
Your Daily Blend of Entertainment News
Thank you for signing up to CinemaBlend. You will receive a verification email shortly.
There was a problem. Please refresh the page and try again.