Jon Favreau Abandons Marvel, Won't Direct Iron Man 3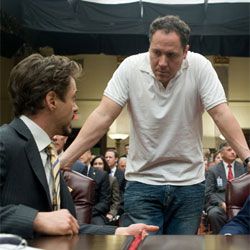 Jon Favreau is no longer involved in the world of Iron Man. He won't direct the third film in the series, if there is one, and you probably shouldn't be surprised, especially if you've been following along on this site. We told you back in August here that Favreau was pretty unhappy with Marvel, after being overlooked for the Avengers directing job and after troubles on Iron Man 2 in which he was forced to do things he simply didn't want to do.
The news of his departure from the franchise he helped build comes from NY Mag where they say Favreau has just said goodbye to Marvel after informing them he won't direct Iron Man 3. As of yet it's not entirely clear whether Marvel will even make an Iron Man 3 but by making his position clear Favreau has freed himself up to move on and do other things.
From the tone of his conversation on the subject in recent weeks it had begun to sound as though Marvel was pulling another Iron Man 2 on him and pushing him into making his movie something he didn't want. Talking to MTV News this week Favreau said of his conversations with Marvel: "This whole world … I have no idea what it is. I don't think they do either, from conversations I've had with those guys."
Here's something to really be worried about. Jon Favreau isn't the only one who's been unhappy with the direction Marvel's headed. The same source which first told us of his problems with the company indicated that Robert Downey Jr. had similar concerns. Downey is under contract for Iron Man 3 and probably can't get out of it, but without Favreau at the helm he may not be very happy about doing it.
UPDATE! Jon Favreau confirmed this story earlier today on Twitter saying: "It's true, I'm directing Magic Kingdom, not Iron Man 3. I've had a great run with Marvel and wish them the best."
UPDATE 2! Jon Favreau has spoken a little more in-depth about his decision not to direct Iron Man 3. For that go here.
Your Daily Blend of Entertainment News