Jon Hamm Leads Reported Cast List For Incredible Mr. Limpet Remake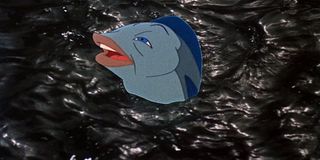 The WB has strangely been trying to get a remake of The Incredible Mr. Limpet off the ground for years, even though the vaguely-remembered comedy turns fifty this year. Starring Don Knotts, the Arthur Lubin-directed film has been up for a remake, most recently with Richard Linklater attached to direct and Zach Galifianakis starring. But there was no movement for years, suggesting the project was dead. Not so fast, said destiny. The Incredible Mr. Limpet is finally returning to screens.
The Wrap claims that Jon Hamm is one of many big names circling The Incredible Mr. Limpet. Given that the project would mix animation and live-action, Hamm would star in the live-action portion of the film as the villain of the piece. While Limpet was a bookkeeper in the original film, Galifianakis would be playing him as a beach bum desperate to save the local fish population. Hamm's character would be an industrialist mining the ocean floor. Also in talks are Danny McBride and Sarah Silverman, while Kevin Hart, Josh Gad, Keegan Michael Key and Jordan Peele would provide voices for the animated portion.
Presumably this would keep the bifurcated structure of the original film, where Limpet morphs into a fish and goes on a series of animated adventures. Linklater is getting in contact with Femke Wolting and Tommy Pallotta, who assisted him with the rotoscoping sequences in both Waking Life and A Scanner Darkly, suggesting that at least some of the animated sequences will at least be partially filmed. Warner Bros. is eying a fall start date, though that would be exclusively reserved for the animation and rotoscoping, with the live-action material shot in early 2015.
The original film, the trailer of which you can see above, told the story of an intellectual loner, a loopy dreamer who, upon shapeshifting, began to fight the Nazis. So, yeah, pretty strange! Based on the novel Mr. Limpet by Theodore Pratt, the material seems like an odd fit not only for Boyhood director Linklater, but also for contemporary times. There's a commentary to be made on how Knotts' bookkeeper is now Galifianakis' "beach bum," but the hope is that Linklater would completely subvert expectations and produce something daring and unusual.
The Incredible Mr. Limpet has been in development for two decades, attached to a number of different actors and directors. Robin Williams and Jim Carrey are just two of the names linked to the story, with directors like Steve Oedekerk (Ace Ventura: When Nature Calls), Mike Judge (Office Space) and Kevin Lima (Enchanted) in talks. With this cast being rumored for the film, there's a very good chance Mr. Limpet will finally swim back onto screens to the delight of the seventy year old core demographic.