Joseph Gordon-Levitt Updates Us On His Adaptation Of Neil Gaiman's Sandman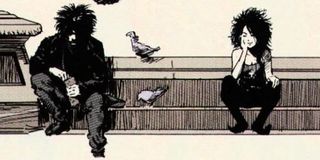 Between HitRECord, his directorial debut Don Jon and his executive producer credit on Looper, Joseph Gordon-Levitt has been branching out in filmmaking. But the dapper leading man is getting ambitious, by digging into a long-stalled adaptation of Neil Gaiman's Sandman for Warner Bros. Gordon-Levitt was first tied to the resurrected adaptation back in November of 2013, but now, he's sharing details on how The Sandman is developing.
While promoting Sin City: A Dame To Kill For, Joseph Gordon-Levitt told Moviefone that he's working in the script with David S. Goyer and Neil Gaiman. He explains:
With all the talk of Marvel's Cinematic Universe, it's not surprising to hear the DC is trying to consider the wider world of their properties for film development. It's good to hear that Warner Bros has brought Neil Gaiman into the project's development. But without a script, Sandman is far from a guaranteed greenlight.
For those unfamiliar, The Sandman is a DC-owned comic series that was created by Joe Simon and Jack Kirby. However, it was the second Sandman series penned by Neil Gaiman that is most revered. This 75+ arc ran from January of 1989 to March of 1996. Yet no movie adaptation has made it to production.
Warner Bros has been trying to crack the code of a Sandman movie as far back as 1996, when Killing Zoe helmer Roger Avary was attached to direct a script Ted Elliott and Terry Rossio (Pirates of the Carribean) had adapted from "Preludes and Nocturnes" and "The Doll's House" storylines. But creative differences led to Avary abandoning the project. Later a draft by William Farmer (Jonah Hex) hit the web, and was outright scorned by fans. In 2007, Batman & Robin director Joel Schumacher tried to get Sandman going, but failed. Stardust director Matthew Vaughn later admitted his interest in the project was useless as it was "stuck in development hell." Enter David S. Goyer.
Despite some stupid comments about comic book characters, Goyer is a rock star for DC's movie adaptations, having had a hand in writing the Dark Knight trilogy, and penning Man of Steel and the upcoming Batman vs Supeman: Dawn of Justice. Goyer got the ball rolling again on Sandman, and looped in Looper star Joseph Gordon-Levitt, who was initially tight-lipped about how he'll be involved in the project. Now it seems he's planning to produce, star and potentially direct.
Earlier this year, Goyer and Gordon-Levitt pulled in Jack Thorne, who recently adapted Nick Hornby's dark comedic novel A Long Way Down, to draft Sandman's new screenplay. And now it seems the fate of a long-stuck movie could be on the shoulders of this Brit wit. We'll give you more on this project as Sandman comes together.
Your Daily Blend of Entertainment News
Staff writer at CinemaBlend.