Josh Hartnett, Woody Harrelson And Ron Perlman Go Nuts In Bunraku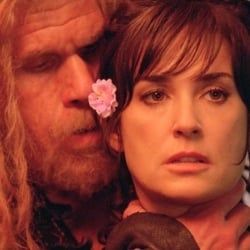 The indie film Bunraku will be premiering at next month's Toronto Film Festival, and now that the festival has posted stills on its official site, we can see this movie looks like a little fireplug. I'm not sure if director Guy Moshe put his ear inside a seashell or picked names out of a hat, but the cast is a work of eclectic lunacy: Josh Hartnett, Woody Harrelson, Demi Moore, and Ron Perlman, to name a few. The plot goes something like this:
OK, so we've got a bunch of roles that the respective actors assigned to them were destined to play. Hartnett, in a wily spin off his Sin City character, is some lonesome gunslinger (sans gun) type who joins forces with a cynical Woody Harrelson who basically just survived Zombieland. Their mission? To overthrow the vicious and deranged tyranny of Ron Perlman, who joins a long and distinguished line of psychotic despots of the future, which include Dennis Hopper (Waterworld) and the jacked freak in the Jason mask from Road Warrior. At least that's how I see this thing shaping up. And it looks awesome.
Check out the visually stunning images below, and check for our coverage of the Toronto Film Festival next month to see if a crazy cast and excellent visuals translate to a movie worth watching.
(Hat tip to Collider for noticing this film in the lineup.)
Your Daily Blend of Entertainment News
Thank you for signing up to CinemaBlend. You will receive a verification email shortly.
There was a problem. Please refresh the page and try again.