Josh Lucas Playing Charles Lindbergh In J. Edgar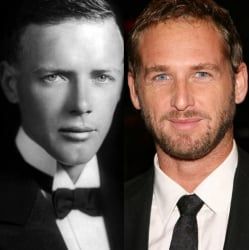 In something of the same way the Leonardo DiCaprio-starring The Aviator managed to cram a ton of interesting historical figures into a biopic that focused on someone else, there will be a lot of big, fascinating names shown up in J. Edgar, the biopic also starring DiCaprio as the founder of the FBI, J. Edgar Hoover. Clint Eastwood is directing the film, which also stars Armie Hammer as Hoover's lover and longterm assistant Clyde Tolson, and now Josh Lucas, of all people, is on board to play the next notable name.
According to Deadline Lucas has signed on to play the aviation legend Charles Lindbergh. When the famed pilot's infant son was kidnapped in 1932 it was a national saga that led to the conviction and eventual execution of Bruno Hauptmann (Australian actor Damon Herriman is already on board to play the accused); Hoover got involved later, investigating inconsistencies in the case-- it's very likely Hauptmann was innocent-- and eventually attempting to discredit Lindbergh himself, thanks to President Roosevelt's belief that Lindbergh was a Nazi sympathizer.
At this point it's hard to tell where Eastwood's Hoover biopic is going to focus, whether on the romantic relationship between Tolson and Hoover or the FBI director's professional successes, or some strange hybrid of the two. But it's actually nice to see Lucas, an actor largely underrated and under-employed, thrown into this classy mix; I'm looking forward to seeing what he might bring to a character as prickly and fascinating as Lindbergh.
Your Daily Blend of Entertainment News
Staff Writer at CinemaBlend