Joss Whedon's Behind The Scenes Role On Guardians Of The Galaxy Revealed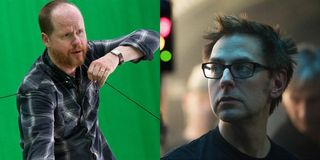 Joss Whedon and James Gunn don't actually have any joint creative credits on their respective filmographies, but they have been friends for a very long time. In fact, the Angel character Charles Gunn, played by J. August Richards, was actually named after the Super writer/director. After years of friendship, however, their bond is now being solidified within the Marvel Cinematic Universe, and the two filmmakers now share a connection working for Marvel Studios. But exactly what kind of role did the Avengers director actually play in the making of Gunn's Guardians of the Galaxy? It turns out the answer is a significant one, as Whedon's power position not only opened the door for Gunn to get the job, but also fully express his creative vision.
Enthusiastically answering questions between takes on the set of his latest film last fall, Gunn wasn't shy about admitting he reached out to Whedon when he was first going out for the Guardians of the Galaxy directing gig. After all, he really cared about getting the job, and who better to get a recommendation from than the guy who had just directed the third most successful blockbuster in history?
"I wrote him an e-mail and said, 'Hey, I'm trying to get this job. Can you help me?'" Gunn revealed. What he discovered, however, was that he was just a bit tardy in his efforts. Whedon responded, "'You're fucking late. I already talked to all of those guys all about you.'"
Having Whedon in his corner not only helped Gunn get the job, but also – strangely – helped make sure that Guardians of the Galaxy actually feels like a James Gunn film. The director told a story about a time early in the development process when he had completed the first draft of his screenplay. The script earned the approval of Marvel Studios President Kevin Feige and producer Louis D'Esposito, but it was when the work fell in Whedon's hands that it wound up hitting a roadblock rarely found in Hollywood moviemaking.
"Joss was happy, but he wasn't as happy as everybody else," Gunn explained. "I was like, 'Whoa, man!' And he's like, 'Well, I really loved this and this is great, and the story's been cracked. But I just really want there to be more James Gunn in the script. There are things that are too conventional, and I want more James Gunn in it… And I was like, 'Alright, your funeral.'"
Gunn took this as a cue to go home and write a seven page, all dialogue scene set on a spaceship and featuring the main characters just chatting. The time we were on set, the sequence was scheduled to shoot the next Friday.
This environment left Gunn as Guardians of the Galaxy chief creative voice, but Whedon had his share of direct involvement as well. As producer Jonathan Schwartz explained, "Joss was involved with a little bit of the writing process. He and James go way back and have a great relationship, and everything we do is kind of crafting the same tapestry that is the [Marvel Cinematic] Universe. So Joss and James got to work together putting this together. It's James' script, but Joss was able to be involved in a really useful way."
Given the strong creative visions of both filmmakers, I can't wait to see what their joint powers can produce. Guardians of the Galaxy's August 1st release date can't get here soon enough.
Assistant Managing Editor
NJ native who calls LA home and lives in a Dreamatorium. A decade-plus CinemaBlend veteran who is endlessly enthusiastic about the career he's dreamt of since seventh grade.
Your Daily Blend of Entertainment News
Thank you for signing up to CinemaBlend. You will receive a verification email shortly.
There was a problem. Please refresh the page and try again.