Joss Whedon Reveals Details About His Canceled Wonder Woman Script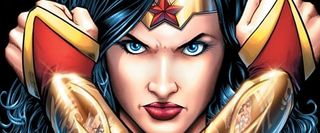 If there's anybody out there who you'd think could crack DC's Wonder Woman for the big screen, it'd be Joss Whedon. He's got a long history of writing strong (both emotionally and -- often superhumanly -- physically) female characters, and Buffy the Vampire Slayer was basically one long treatise on women's empowerment. Yet even Joss's rising star and built-in nerdbase weren't enough to get Princess Diana (the one with the lasso) into theaters.
Joss has since moved on to helm the biggest superhero movie ever for the competition over at Marvel, and DC still has yet to get their ducks in a row when it comes to making a Wonder Woman movie. It's one of those great Hollywood coulda-been stories, and fans have understandably been curious about what Joss' take on the Amazonian would have been like. We've heard whispers about comparisons to Angelina Jolie, but nothing that ever made a lot of sense or provided a clear picture of the whole. Now, in an interview with Rookie Mag, Joss has revealed a few more details about his Wonder Woman script:
That definitely puts the "Angelina Jolie" comments in a clearer context. Diana was sent to "man's world" as an ambassador, after all, so it makes sense that she'd be globe-hopping rather than just hanging around in the States punching bank robbers in the face. It also sounds like had a take on the character that would have made for a really interesting movie, and a story that's actually about something.
At this point, we've seen so many superhero movies that watching people kick each other through an apartment block is almost old hat; if we're going to keep raiding the comic bin for movie fodder, by all means let's give the reins to people with a genuine passion for the material and something to say with it. Somebody like Joss Whedon.
Or, you know, you could just make a godawful Wonder Woman TV pilot. Whatever.
Your Daily Blend of Entertainment News
Your Daily Blend of Entertainment News
Thank you for signing up to CinemaBlend. You will receive a verification email shortly.
There was a problem. Please refresh the page and try again.