You'll Never See The Wonder Woman Remake, NBC Doesn't Want It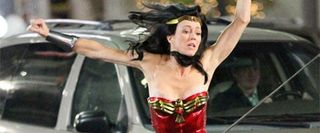 We've been talking for months now about NBC's plan to bring Wonder Woman back to television with a brand new TV series starring Friday Night Lights actress Adrianne Palicki. Well now we can stop talking about it. They aren't showing it.
The pilot episode from TV icon David E. Kelley has been filmed and handed off to NBC execs, who then passed on the whole thing. What happened? Did NBC read all the comments left on those leaked set photos in which the general consensus seemed to be that everything about this looked terrible? Not exactly.
Word from EW is that they showed it to focus groups in test screenings, and got only a rather lukewarm response. Combine that with the bad response to the costume (which producers changed at the last minute in response to all the online moaning) and NBC decided this wasn't the right Wonder Woman for primetime TV. Just think, this is the network that greenlighted the remake of Knight Rider, and even they didn't want it. That says something.
I'm not sure why they went through all the trouble to actually make it, honestly. All you needed to hear was that the plot had been changed to make Diana a corporate CEO who runs a business by day and solves crime by night to know this would be terrible. It was probably like The Cape, only without the Carnival of Crime. Whether it's Wonder Woman or the recently cancelled No Ordinary Family, network television just can't get superheroes right.
Someone call HBO, let people who actually know what they're doing take a stab at it.
For now, Wonder Woman is without a home. Warner Bros. TV, who produced the pilot, might try shopping it to other networks. But again, this was a pilot rejected by the network that put a Knight Rider remake on television. If they won't take it, odds are no one will.
Your Daily Blend of Entertainment News
Thank you for signing up to CinemaBlend. You will receive a verification email shortly.
There was a problem. Please refresh the page and try again.