Julia Roberts To Front The Secret In Their Eyes Remake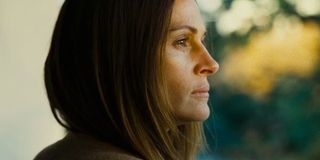 One of the most talked about films of 2010 was the Argentinian thriller The Secret In Their Eyes. Not only did Juan Jose Campanella's chilling tale about a retired detective turned crime novelist win the rousing praise of critics worldwide, it also earned the Academy Award for Best Foreign Language Film. With prestige like this, it's no wonder that an American remake was soon in development. Surprising, is that Julia Roberts has now signed on to star in what is sure to be a deeply dark drama.
Deadline reports Oscar-winner Julia Roberts' name is on the lips of countess attendees of the Toronto International Film Festival as IM Global announces her ties to The Secret In Their Eyes as the company pursues overseas distribution. Roberts is set to star opposite Oscar-nominee Chiwetel Ejiofor (12 Years A Slave) and Oscar-winner Gwyneth Paltrow.
The Secret In Their Eyes will center on a former MI-5 agent (Ejiofor), who's tracking down answers to a murder case that haunts him. But finding the truth will bring no peace of mind. Roberts will portray his friend, and mother to a girl whose killer runs free.
Aside from superficial specifics being changed, like country of origin, identity of the victim, and investigative training background, we suspect this remake will pack the same kind of wallop in its third act that made the first The Secret In Their Eyes such a talking point. Without giving anything away, this should mean Roberts is in for a much darker turn than she's typically offered.
Plans for an American remake of The Secret In Their Eyes were first announced in the fall of 2010, months after its Oscar win made it a must-see for cinephiles. Writer-director Billy Ray (Breach, Shattered Glass) headed up the effort as a helming vehicle for himself. The following year, it was clear that the remake's makers were aiming big with the production, as they offered A-Lister Denzel Washington the male lead.
The trail on this crime thriller went cold for a while after that. But in the spring of 2014, Billy Ray rallied with news that the riveting Chiwetel Ejiofor and the sparkling Gwenyth Paltrow would front the film. Though dubbed a female lead, Paltrow's part hasn't been clarified. Yet we can make an educated guess based on the original The Secret In Their Eyes that she will play a colleague of Ejiofor's who aids him in his cold case investigation.
While Bill Ray's Breach won little notice, his debut Shattered Glass earned buzz. Between the source material and stars, The Secret In Their Eyes looks incredible on paper. This could well prove his breakthrough, not to mention a springboard for its three stars to leap into the Oscars' race of 2016.
The Secret In Their Eyes rolls into production in Los Angeles in October.
Your Daily Blend of Entertainment News
Staff writer at CinemaBlend.