Julia Roberts To Make Knitting Movie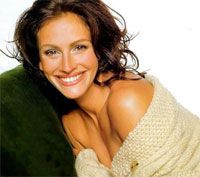 There are just not enough knitting movies out there. In fact, the whole textile craft industry, be it crochet, macramé, or weaving is severely underrepresented. Julia Roberts plans to balance the scales, though, with The Friday Evening Knitting Club, based on the novel by Kate Jacobs. The Hollywood Reporter says that Mark Binder, the writer/director of The Upside of Anger and Reign Over Me, will adapt the novel for Roberts and her production company, Red Om Productions.
For comic effect, insert the word "porn" for the word "knitting" while reading the following synopsis. Roberts will play the mother of a teenager who also runs a knitting store. Her regular knitting customers meet weekly (on Friday night) to knit and talk. A tragedy causes them to look at their knitting club in a new light.
Binder is not slated to direct and the other members of the knitting club have yet to be cast. I'm seeing a young blond, a sassy black woman, an older patient grandmotherly type, and two or three other stereotypes, but, since I'm male, I haven't read the book. Your mother and grandmother are going to love this movie. You, not so much.
Your Daily Blend of Entertainment News
Thank you for signing up to CinemaBlend. You will receive a verification email shortly.
There was a problem. Please refresh the page and try again.