Juliette Binoche Helps Tracy Morgan Make Amends For Cop Out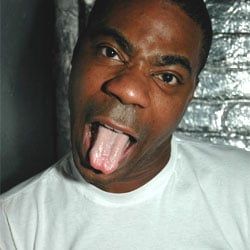 In you left hand you hold venerated actress and French cinema goddess Juliette Binoche. In your right hand you hold Tracy Morgan that guy who says ridiculous things on 30 Rock. Now clap. The result is Son of No One a cop movie from the guy who made A Guide to Recognizing Your Saints, starring that guy from all those dance movies, Channing Tatum, co-starring Al Pacino, Ray Liotta, and the worst thing about Batman Begins Katie Holmes. Yep, this doesn't make much sense. Anything this weird has to be great, doesn't it?
THR says in Son of No One Tatum will play a young cop assigned to the working class neighborhood where he grew up. There he dredges up an old secret which could destroy him and his family.
No word on what role Morgan or Binoche will play in the film, but it's worth noting that Morgan is stepping in to fill a spot once occupied by Terrence Howard. As if being replaced by Done Cheadle in Iron Man 2 wasn't enough. Now Howard's being pwned by Tracy Morgan? I guess it's been awhile since Hustle & Flow.
Your Daily Blend of Entertainment News
Thank you for signing up to CinemaBlend. You will receive a verification email shortly.
There was a problem. Please refresh the page and try again.