Jurassic Park 4 Delays Release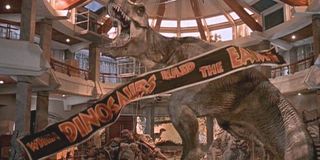 We were skeptical about plans for Jurassic Park 4, and then delighted that the film was handed off to Safety Not Guaranteed director Colin Trevorrow. But we'll be honest, we were also a little concerned. Trevorrow signed on to direct the film in mid-March, and was supposedly prepping the film for a June 13 release date… next year. A film with a lot of CGI and puppet dinosaurs, and with no cast in place, ready within a year? It was a huge challenge, especially for a guy who'd never made a big budget movie before.
Now Trevorrow will be getting more time. Deadline reports that Universal will be delaying the film's release, "in coordination with the filmmakers"-- which we're guessing means "everybody begged us to give them more time." The Hollywood Reporter's Borys Kit offered up a little more context in a Tweet, saying that when they received the film's first draft 2 days ago, the studio was presented with a film "Way more epic and ambitious than they were prepared for." That's a good thing!
They're not saying what the new release date would be, but sometime in the already very crowded summer of 2015 wouldn't be a bad idea. Sure, that would put it in a year that already includes The Avengers 2 and Star Wars Episode VII and The Fantastic Four and maybe even Justice League. But what's one more highly anticipated blockbuster to add to the pile?
When productions are pushed back it almost always spells disaster, or at the very least lack of faith in the project. But the schedule that Jurassic Park 4 was operating with was completely insane, and it's a relief to see a studio recognize for once that you can't just churn out an entire film-- especially an entire ambitious expensive film-- on command. We have nothing but high hopes for JP4, and assume for now that this delay means Trevorrow gets more time, and not that the studio has lost any faith in what he's giving them.
Staff Writer at CinemaBlend
Your Daily Blend of Entertainment News
Thank you for signing up to CinemaBlend. You will receive a verification email shortly.
There was a problem. Please refresh the page and try again.