Jurassic Park Trilogy On Blu-Ray Comes Out Next Week, Preview One Of The Special Features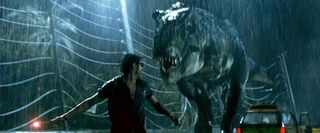 The Jurassic Park trilogy is set to be released on Blu-ray next week, which will give fans of the films the opportunity to purchase (or re-purchase) the movies and dive head first into a giant pile of special features focusing on the making of the films. Read on if you'd like an early look at one of the special features set to be included on the set.
Nearly two decades have past since the first Jurassic Park film hit theaters, and the film still holds up as an excellent sci-fi/adventure film. No matter how ludicrous the idea to re-create dinosaurs and set them loose with the intention of exposing people to them may be to some of us, the adaptation of Michael Crichton's novel made for a great movie.
It looks like Jurassic Park fans have two options when it comes to getting the movies on Blu Ray. There's the Ultimate Trilogy Gift Set which comes in a box with a T-Rex statue, or you can go with the less expensive (and more space-saving) Ultimate Trilogy. Either way, both sets come with the "Return to Jurassic Park" six-part documentary as well as a lot of other features that have been offered on previously released versions of the films.
Digital Spy posted the video below, which comes from one of the featurettes. It looks like it's part of the Animatics feature, which might actually be among the previously released bonus materials. Still, it's interesting to watch, especially if you're into seeing how they turn ideas into storyboards and use animatics to shape a scene before they actually begin creating it for the big screen.
The Jurassic Park Ultimate Trilogy will be available for purchase on October 25th.
Your Daily Blend of Entertainment News
Thank you for signing up to CinemaBlend. You will receive a verification email shortly.
There was a problem. Please refresh the page and try again.