Jurassic World Just Passed A Box Office Landmark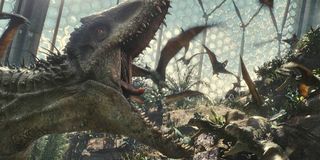 Jurassic World continues its nationwide box-office domination. After surpassing a number of records, including highest-grossing opening weekend of all-time, the resurgence of the Jurassic Park franchise has trampled over Avengers: Age of Ultron and Furious 7 to become highest-grossing domestic release of the year.
It sounds farfetched when you think about how quickly the latest chapter of the Fast and Furious saga raced up the box-office ladder, but, according to Box Office Mojo, Jurassic World is, indeed, at the top of this chart. Coming in second is Age of Ultron, the last of the Joss Whedon-directed Avengers films, with Furious 7 coming in third. Rounding out the last two spots of the top five are Kenneth Branagh's live-action Cinderella for Disney and Pete Docter's emotionally charged and hilarious Pixar movie, Inside Out. But even though Inside Out was considered another success for the animation giant, according to critics, and even though we didn't get a Pixar movie last year, it was still no match for Jurassic World. Two weekends ago, when Inside Out debuted in theaters with $91 million, making it the first Pixar film to not earn no. 1 at the box office. Jurassic World walked away with an additional $102 million to its revenue stream. And, in more unsurprising news, it beat Ted 2's opening. No, crushed it is more of an appropriate phrase.
Considering the still-developing success of the film, we should be expecting a formal announcement from Universal soon as to development on a sequel or two. Chris Pratt already told press that he signed on for multiple installments, and fans are visibly still looking to feed their Jurassic Park nostalgia center. It doesn't even matter all that much that critics were considerably divisive as to the substance of Jurassic World, with most finding at least a handful of major flaws. People still want to see more dino action.
In the latest installment by director Colin Trevorrow, Chris Pratt starred as Owen Grady, a raptor researcher who is totally not that kid from the very first film. Years after the events of the original story, the park is now open and fully functional with thousands of people flocking to see real-life dinosaurs born from a test tube. As the executives, including Bryce Dallas Howard's Claire Dearing, prepare to unleash their first ever genetically modified hybrid dino — which, by the way, is based on an actual dinosaur — Owen is called in to access the creature. Of course, things don't go as planned and the beast breaks free to wreak havoc on the park and its inhabitants.
This coming week marks the release of installments of two major franchises: Terminator Genisys and Magic Mike XXL. The former is opening earlier in the week to capitalize on the long July 4 weekend, while the latter opens on Friday. Despite, Jurassic World's continuing success, perhaps one of these (or both!) will be enough to finally topple the beast.
Your Daily Blend of Entertainment News
Thank you for signing up to CinemaBlend. You will receive a verification email shortly.
There was a problem. Please refresh the page and try again.