Jurassic World Actually Broke Two Major Box Office Records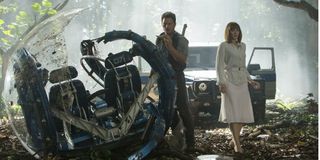 Over the weekend the numbers for Jurassic World soared. While the film was expected to be a hit, it was still a major surprise that the Jurassic Park installment took off, surpassing even Marvel's Mightiest Heroes at the global box office. But now the final numbers for the weekend are in, and not only did the dino-thriller become the number one all-time high globally, but along with Sunday's numbers, the film has now become biggest opening weekend of all-time domestically as well.
Over the short weekend, Jurassic World somehow managed to bring in a record breaking $208.8 million domestically, according to Forbes, which now places the film as the best all-time debut ahead of both The Avengers ($207 million) and Avengers: Age of Ultron ($191 million). It really did come as a surprise considering where the numbers stood as of yesterday morning. Universal predicted the final number as being $4 million short what with the NBA Finals on last night and such. But it looks like Indominus Rex kept on roaring right through till the end.
Along with already breaking the global box office debut gross, this marks two major box office records broken by Jurassic World and it's only been out for 4 days. Right now, the blockbuster already sits as the fifth-highest worldwide grosser this year, and in days it will probably be third, and so on till it breaks that number one wall down as well. There's still time and money to go though to be breaking bigger records, and with the turnout, and the critical acclaim surrounding the film, there's definitely a major possibility that we'll be hearing about some more earth-shattering records from the ferocious flick.
So what is it that's pushing moviegoers to quickly catch a glimpse of this popular franchise reboot? Well, there you have it first. The popularity of the Jurassic Park franchise itself. Though people will always have their doubts when revamping a beloved cult classic, there's no doubt that curiosity will win over doubt when it comes to actually heading to the theaters. And with Chris Pratt attached. That opens up a whole new ball park. The guy is winning, big time. He's got that charisma that is just so darn lovable, yet he actually can act on top of it. And guess what, he seems like a totally normal dude too. It's pretty much too good to be true, but keep on attaching him to big blockbusters, and lines will form.
Jurassic World just completed its opening weekend, so you still have plenty of time to catch the film and all its thrilling destruction. And we'll keep our eyes on the box office scores, it's only a matter of time till yet another record is broken.
Your Daily Blend of Entertainment News
Your Daily Blend of Entertainment News
Thank you for signing up to CinemaBlend. You will receive a verification email shortly.
There was a problem. Please refresh the page and try again.