Chris Pratt: 10 Amazing Things You Should Know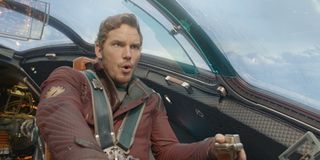 With Guardians of the Galaxy premiering August 1st and Jurassic World currently in filming, things are blowing up for Chris Pratt. That's been the trend for awhile now, as this actor has snuck his way into award winning films for the past three years. To think that ten years ago this A-list actor was a minor WB sitcom star is astounding, and the story behind it is even better.
Learning about Chris Pratt is literally like hearing a first hand account of a good guy who got lucky. That's not to say he's not super talented, but rather everything in his life contributed to the great actor he is today. From the infectious charm he exudes on screen, to the radical body changes he undergoes between roles, this guy is amazing. Bottom line is, Chris Pratt has been Hollywood's main guy for awhile now, and we just haven't been paying attention.
Here's ten things you need to know about him…
Chris Pratt Was Mr. Popular In High School
Before he was Chris Pratt the actor, he was Chris Pratt the athlete. Raised in the town of Lake Stevens, Washington, Pratt was the type of guy who just fit in every social group. He was a fullback for the football team, a track athlete, and a state qualifying wrestler. Friends and peers remember Chris as humble and outgoing, and so well liked they chose him to deliver their graduation speech. As written in local paper piece done by a former classmate…
Pratt is still very active in the school to this day. Since graduation he has produced and narrated a documentary for the school's successful wrestling team. That documentary went on to premiere at ESPN's film festival, and later MTV's True Life. It's incredibly well done, and you can watch it here.
Pratt Got His Start In Hawaii
It would only be logical as an aspiring actor to get your start in Hollywood right? Well, Chris wasn't trying to become an actor. Rather, he was just sort of drifting around, looking for a job. A friend bought him a plane ticket to Hawaii, and Chris hopped aboard to find his future. He lived in and out of his car, and bounced around various jobs until landing a gig at a Bubba Gump's Restaurant. There he would serve a woman who changed his life forever.
Actress, daughter of Tommy Chong, and soon to be director Rae Dawn Chong was eating at Bubba Gumps when she met her server, Chris Pratt. She found him so funny and charismatic that she offered him a role in her directorial debut Cursed Part Three. Pratt moved from Hawaii to Hollywood in just a couple of days, in order to shoot one of the worst horror comedy films of all time. Clocking in at twenty minutes, not much can be found online about this film minus a review by someone who found it on Netflix…
Strange to think that even some of the biggest actors get their start in the worst of movies. Chong did not go on to direct after that, and Pratt remained in Hollywood. Now wishing to become an actor, he auditioned for various roles around Tinsel town. Because he's literally one of the luckiest guys on the planet, he landed an acting gig not long after for a show on the teen drama factory that was the WB.
Chris Pratt Was On Everwood
This may have been a no brainer for some, but as a guy who only watched WB back in the day for cartoons and Smallville, I had no clue. Pratt played the role of Bright Abbott, who was goofy and lovable, but struggling with demons... like most Greg Berlanti created characters. Watch him in action on the show...
I can't tell if that scene is actually hilarious, or I'm just imagining Andy doing the same thing on Parks and Rec. Chris was in the main cast throughout Everwood's entire run, and got not one but two Teen Choice Award nominations. Despite his recent roles in big films and television shows, those nominations represent a bulk of the recognition he's gotten in the acting world. He didn't win the TCA for best sidekick, but he did meet Jimmy Fallon who gave him a big boost of encouragement.
He also landed a short stint on The OC after Everwood's end…
Chris Pratt Sold Coupons For A While…
So if you haven't realized it yet, Pratt got pretty far in life just off his charm. He had no formal acting training to speak of. If you ask him, though, he'd say one job taught him all he needed to know. Before he was a server at Bubba Gump's, Chris sold coupons door to door. It was one of those jobs that sounded and most likely was a pyramid scheme, and Pratt excelled at it.
After two years, Chris became the guy who gets his own office and hires other people into sales roles. While he never goes into depth on exactly how this job helped his acting career, you can imagine the amount of talent necessary. Just think about how much it would take to convince you to buy coupons from someone at your door, and know that more often than not he was successful at doing so. I'd give an Oscar to any guy who could sell me something so ridiculous at my doorstep, how about you?
Watch Chris talk about his coupon selling days with Conan below...
Chris Isn't Just A Musician On TV, He's For Real…
We've seen his musical stylings on Parks and Recreation, and who can forget his performance of Cucurrucucu Paloma in The Five Year Engagement? Is it really Pratt though, or is it dubbing and studio magic? Pratt doesn't talk about his music much save an article he did forSeventeen magazine way back in the Everwood days. In that profile he talks about his guitar, a new recording studio he set up, and an audio interface for recording music.
He's always on screen singing and playing, so why haven't we heard any of the tracks he records in his free time? It might just be that with a kid and his recently demanding acting schedule he hasn't had time. He could also be shy about his musical ability. From what we've heard he's a pretty bad ass singer so Chris if you're reading this, release something!
Watch Chris show off his musical skills in The Five Year Engagement...
Chris Pratt And His Wife Have An Odd Hobby…
One of the weirdly lesser known facts of Pratt's life is that he's married to comedy starlet Anna Faris. The two married in 2009 and first met on the set of Take Me Home Tonight. The pair has a little boy named Jack and a cool relationship. How did the spark ignite between this celebrity power couple?
Dead bugs. A lot of dead bugs. Seriously, Chris and Anna got together when he mentioned on set that he had a dead bug collection. Anna requested to see it, and when he brought her over she broke down into tears. She was crying tears of joy, because she too, in the weirdest plot twist ever, had a giant dead bug collection. Yeah what are the odds right? Now they live together in a big house with a giant bug collection. That's love... it's weird love... but love nonetheless.
Pratt's A Beast At Weight Gain And Loss…
People always talk about Christian Bale's dramatic drop from the Machinist to Batman Begins, but they should be talk about Pratt too. If you need evidence check him out in the first season of Parks and Rec, then Moneyball, Five Year Engagement, Zero Dark Thirty, Delivery Man, and finally Guardians Of The Galaxy. Over the course of five years he's dropped or gained around seventy pounds on a consistent basis! Shortly after GOTG wrapped, Pratt was called in for reshoots. Not two weeks after wrapping he was twenty pounds heavier! No biggie though he melted it off and got it done.
I'm sure a lot of this dedication comes from his days in wrestling. If there's one group of guys who know how to melt off weight, it's wrestlers. Celery shakes, working out in sweat shirts and hoodies, and other things that will make you miserable are all part of the job. When you're a wrestler, making weight is a necessity, and acting is no different. No doubt Pratt has hung onto some of those habits, and they've served him well.
Andy Was Supposed To Be A One Off Character…
Sure he was on teen dramas back in the day, but it's no secret what blew Chris Pratt up in Hollywood. Andy Dwyer is one of the best characters not just on Parks and Recreation, but on television period. His idiocy and optimism have made for ample hilarious moments in the show's run. Given the success of his character, it's crazy to think that he almost didn't make the main series! According to A.V. Club, Pratt character was supposed to be a season one character only…
Of course audiences loved Andy and he's become not only a regular, but a core piece of the show's storyline.
Chris Pratt Went All Out For Moneyball…
If you ever question the amount of work actors put into a role, look into Chris Pratt and Moneyball. As the movie was true to life, Pratt was required to emulate both the life and playing style of former Oakland A's player Scott Hatteberg. This meant learning to bat left handed, attending camps with ex professionals, and playing REAL baseball. He elaborates on the latter in an interview with Movieline...
Mind you this tryout took place after his third reading. He still did not have the part when he attended this practice. That's the kind of dedication most actors would walk away from.
Chris Learned One Of His Greatest Acting Tricks From Phillip Seymour Hoffman
Another really cool anecdote to come out of the Moneyball interview was Pratt talking about Phillip Seymour Hoffman. This would be the first and (although he didn't know it) last time the two would work together. Chris listed Hoffman as one of his all time favorite actors, and got to meet him on set when their filming days coincided. He shared his experience below…
He then was asked if he learned anything from the late great actor…
That's the real Chris Pratt. On the surface there's this funny, charismatic, down to earth guy. Yet beneath that, there's also a talent with incredible perseverance and a huge future in acting.
Your Daily Blend of Entertainment News
Mick likes good television, but also reality television. He grew up on Star Wars, DC, Marvel, and pro wrestling and loves to discuss and dissect most of it. He's been writing online for over a decade and never dreamed he'd be in the position he is today.