The Jurassic World Trailer Teaser Is A Perfect Callback To The Franchise's Greatest Moment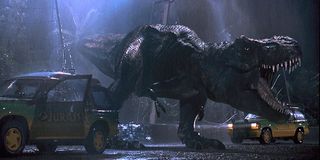 Universal Studios Brazil very stealthily confirmed yesterday that our assumptions on just when we'll be seeing a Jurassic World trailer are true. And they did so with a video perfect for throwback Thursday, which you can watch below.
Post by Universal Pictures Brasil.
So besides the big message on the video's posting that states, "Something big is coming ...#JurassicWorld trailer next Friday," the video actually finds a clever way to signal the coming of our first look at the next stage of unnatural evolution. In case you need a refresher, you can watch the classic clip from Jurassic Park that inspired this announcement trailer below.
Now if you go back and watch the Jurassic World trailer announcement, you'll notice that the noise of the water is slightly tweaked to be more audible. It also just happens to consist of seven tones. Seven tones, seven days, Jurassic World trailer confirmed! At least, that's what it looks like, considering the trailer itself is devoid of any sort of official notice or logos and just consists of the water. Make no mistake, the announcement video on its own is enough to say, "Something big is coming," but it'd be nice to know what or when without having to look at the original post – especially considering most news sources are going to run that video on its own, minus the Facebook embed.
But what else is the trailer trying to tell us, without really telling us outright? One way to look at it is that director Colin Trevorrow and his marketing team want to assure the audience that Jurassic World has more in common with the series' progenitor than it does with either of the sequels that came after it. To showcase a scene from Jurassic Park makes a promise of a return to when "an adventure 65 million years in the making" didn't end with a slapdash ending involving a platoon of Marines arriving on the shores of a dinosaur creation lab. In case you forgot that moment even happened, you might want to borrow a friend's copy of Jurassic Park III and just skip to the end. Also, ask that friend why they have a copy of Jurassic Park III.
The perfect trailer should give you an idea of what to expect, while not giving away the whole movie. A perfect sequel trailer does that, while at the same time giving you a hint of what's different this time around. While Jurassic World's teaser announcement trailer isn't exactly perfect, it's an effective flashback to a moment we all remember, with a promise that there's more memories in store when we return to Isla Nublar.
Jurassic World opens its doors on June 12, 2015; with a teaser trailer more than likely arriving next Thursday at 9 PM EST. Which just happens to be 12 AM Friday in Brazil's local time.
CinemaBlend's James Bond (expert). Also versed in Large Scale Aggressors, time travel, and Guillermo del Toro. He fights for The User.
Your Daily Blend of Entertainment News
Thank you for signing up to CinemaBlend. You will receive a verification email shortly.
There was a problem. Please refresh the page and try again.