Will The Justice League Movie Actually Feature The Watchtower?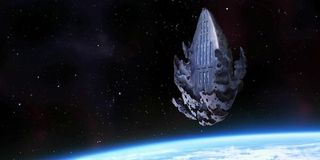 When you get enough superheroes working together on a regular basis, better meeting places are needed than a coffee shop, park or a creepy cave underneath a teammate's mansion. They need official headquarters, and for the Justice League, this is usually the Watchtower, their base introduced in 1997 that's located either on the Moon or floating in Earth's orbit. The Watchtower has been seen in various animated adaptations, but with the League making the leap to live action next year in Justice League: Part One, could we see it appear on the big screen for the first time?
The idea crossed our minds after seeing Jason's Momoa's Instagram video of him working out for Justice League: Part One. The Aquaman star wrote "Watchtower" in the caption, and while that in no way constitutes proof that the headquarters will appear, he does appear to be hinting at it to go along with his continued enthusiasm for the source material. It's definitely possible the Watchtower will eventually appear in the DC Extended Universe, but given how early we're still into this franchise, Justice League: Part One doesn't seem like the likely place it will be introduced.
Warning: spoilers for Batman v Superman: Dawn of Justice are ahead!
Following Superman's death during the battle with Doomsday, Batman told Wonder Woman that he was going to gather the other metahumans seen in Lex Luthor's secret files so he could form a team that will protect Earth in the Man of Steel's absence. Now, with his wealth and the resources of Wayne Enterprises, building, the Caped Crusader could conceivably build the Watchtower in secret, though with extreme difficulty. However, doing so would be premature since he has no idea how Aquaman, Flash and Cyborg are going to react to him trying to recruit them. We the audience know that these heroes will eventually work together, but maybe at first, the other metahumans won't be on board for what the guy dressed like a bat has planned. It's like if you built a house for some people you want to work with in the future, only to find out they've taken a job somewhere else or just don't want anything to do with you. Then you're left with an empty house, and with the Watchtower, that's not so easy to rent.
With that in mind, the soonest we could feasibly see the Watchtower is at the end of Justice League: Part One. The Justice League animated series last decade introduced its Watchtower (seen above) at the end of its three-part premiere, so the movie could take a similar approach. After defeating whatever threat they've come together to battle, they realize they need to stick together, so Batman starts construction on their headquarters. The final minutes of the movie could jump ahead to the Watchtower's completion and the heroes making themselves at home. It may feel a little rushed, but at least we'd have it by 2017's conclusion.
The more logical option would be introducing the Watchtower in Justice League: Part Two. Assuming the sequel doesn't immediately follow its predecessor chronologically, some time will have passed, which allows for the Watchtower to either be finished when we reunite with the team in 2019 or see it in the middle of construction. The only remaining issue is where it would be located. Space would be the preferable option for hardcore fans and for visual reasons, but unless the team converts an alien space station into their headquarters or gets ahold of alien technology that makes traveling through space easier, throwing their base on the Moon or in Earth's orbit might be too difficult to go to and from on a consistent basis. Instead, that could be something that's worked up to, but to start, the Justice League sets up their first base directly on Earth, like the Hall of Justice in the Superfriends series or the Metro Tower in Justice League Unlimited. Then either near the latter half of Justice League: Part Two or even a third movie, the space Watchtower could be set up, giving the DC heroes a better place to monitor Earth or just chill out on their off-time.
If we're taking Jason Momoa's Instagram tease seriously, then fans can look forward to the Watchtower playing some kind of role in Justice League: Part One, but for right now, the chances of seeing it so soon aren't good. That kind of base is something that needs time to be established, and unless they throw it in as the first Justice League installment concludes, then it seems like something that will come later down the proverbial road. It's not so much a matter of if we'll see it as when.
Would you like to see the Watchtower in Justice League: Part One or should it be saved for another movie? Let us know your thoughts in the poll and comments below. Justice League: Part One hits theaters on November 17, 2017.
This poll is no longer available.
Connoisseur of Marvel, DC, Star Wars, John Wick, MonsterVerse and Doctor Who lore. He's aware he looks like Harry Potter and Clark Kent.
Your Daily Blend of Entertainment News
Thank you for signing up to CinemaBlend. You will receive a verification email shortly.
There was a problem. Please refresh the page and try again.