Kate Mara Joins Johnny Depp In Transcendence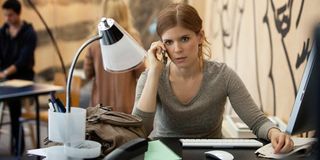 Maybe Kate Mara is getting closer to her House of Cards character than we thought. After more than 10 years of taking small roles in big films like Brokeback Mountain, Iron Man 2 and 127 Hours, Mara has finally broken out playing the venal reporter Zoe Barnes on the Netflix original series-- and clearly some of Zoe's ambition has rubbed off. According to Deadline Mara is preparing to take on her biggest role yet, starring opposite Johnny Depp in Transcendence, the super-secret directorial debut of longtime Christopher Nolan collaborator Wally Pfister.
We've been intrigued by the project since it was first announced as a big-budget effort that came with an enormous $20 million paycheck for Depp, back when all we knew was that the film was "in the vein of 2001: A Space Odyssey. Since then Paul Bettany and Rebecca Hall have hopped on board, and some rumored plot details say that Depp will be playing a scientist trying to create the world's first self-aware machine. Y'know, because making machines self-aware has never gone badly in movie history, ever.
Funnily enough, Mara's sister Rooney was once in the running for Hall's role; given that Rooney landed an Oscar nomination and instant name recognition after her role in The Girl With The Dragon Tattoo, it seems only fair that her elder sister Kate now score this giant film, especially on the heels of such a fantastic House of Cards performance. It feels like ages since we've had a pair of sisters dominating Hollywood with talent, and not going the notorious Kardashian/Hilton/Olsen twins route. Can the Mara sisters be the Olivia de Havilland and Joan Fontaine of a new generation-- but, y'know, without the lifelong feud? We sure seem to be heading there.
Staff Writer at CinemaBlend
Your Daily Blend of Entertainment News
Thank you for signing up to CinemaBlend. You will receive a verification email shortly.
There was a problem. Please refresh the page and try again.