Kathy Bates And Danny Glover To Star In The Great Gilly Hopkins Adaptation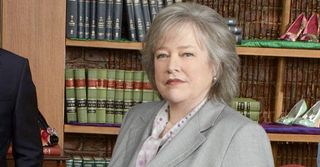 If I were to ask you what the movies Bill & Ted's Excellent Adventure, Don't Tell Mom The Babysitter's Dead and The Mighty Ducks have in common, you might—quite understandably—guess that they were a ubiquitous and cherished part of childhood for those who grew up in the late '80s/early '90s. That's certainly true. But did you know they were all directed by the same man?
Stephen Herek cornered the market on kooky kid movies for a while, but in the 2000s got lost amid lackluster fare like Mark Wahlberg's Rock Star and the Angelina Jolie rom-com Life or Something Like It. But news out of the European Film Market suggests Herek is returning to his forte, as he's set to direct an adaptation of Katherine Paterson's celebrated children's novel The Great Gilly Hopkins. Deadline reports Kathy Bates and Danny Glover are attached to star.
The story centers on an 11-year-old girl named Gilly, who has a chip on her shoulder and a wisecracking attitude. But as a kid whose been pawned off from one foster home to next, Gilly comes by her tough exterior honest. She is sick of foster parents, and dreams of reuniting with her biological mother. But that begins to change when Gilly grows close to her latest guardian, the eccentric but kind Maime Trotter.
Bates is slated to play Trotter, while Glover will likely portray Trotter's next-door neighbor Mr. Randolph, an African-American man with a library full of books. Together, they offer a great start to build the cast upon. Producers are currently seeking a girl to play Gilly. David Paterson, son of the author and adapter of another of her novel's Bridge to Terabithia, penned the screenplay. There's no mention on when The Great Gilly Hopkins is looking to lens. As someone who misses the whimsy and warmth of Herek's early movies, I'm hoping we'll get news on the film's progress soon.
Your Daily Blend of Entertainment News
Staff writer at CinemaBlend.