Why Lethal Weapon Was So Important For Danny Glover As A Black Actor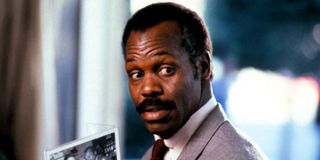 Since starting his acting career in the late '70s, Danny Glover has built quite an impressive acting legacy, appearing in movies like The Color Purple, Predator 2, Witness and of course, the Lethal Weapon franchise. Now, after reflecting on his accomplishments, he explained why Lethal Weapon was important to him as a black actor.
Danny Glover spoke in length with Variety about things like George Floyd and the Black Lives Matter movement. When the topic switched to his own career, Danny Glover listed movie projects that were important to him, and then said Lethal Weapon was one of them. Here's what he said about some of the important movies he's been a part of:
It's true, Danny Glover has been in some truly inspirational and powerful films. The Color Purple, directed by Steven Spielberg, received 11 Academy Award nominations, and Places in the Heart won two out of its seven Academy Awards nominations.
You'd think being in these films would top his list, but he later added Lethal Weapon, which at face value is a little surprising. However, Danny Glover took the time to explain why it was important that he was in Lethal Weapon. Here's what he had to say:
Lethal Weapon is one of the greatest action franchises of all time, and Danny Glover's performance as Roger Murtaugh is a big reason why. It's truly masterful. With each movie, he provided the backbone, heart and soul of the story, in contrast to the typically unhinged Martin Riggs. From the hilarious comedy to the truly heartbreaking moments, Danny Glover took a complex character layered with so much humanity, and makes him truly memorable.
Of course, right now, Danny Glover is still busy as ever acting. The last we saw him, he played Milo in Jumanji: The Next Level, which included its own little Lethal Weapon callback. But, the real question is, will we see him return as Roger Murtaugh in Lethal Weapon 5?
Lethal Weapon 5 has been rumored to be in the works for some time, but earlier this year, it was reported that there's a script with Richard Donner set to return as the director. Mel Gibson and Danny Glover are also wanting to return as well. It's impossible to know what the story would be about, but just the fact that Riggs and Murtaugh could be coming back for a new installment is enough to get this Lethal Weapon fan excited. Stay tuned for more updates.
Your Daily Blend of Entertainment News