Jumanji 3: What We Know So Far About The Next Level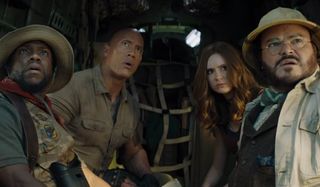 The game isn't over! The third movie in the Jumanji series, following 1995's Jumanji and 2017's Jumanji: Welcome to the Jungle, is called Jumanji: The Next Level. Fans can expect a steady stream of Jumanji 3 news, with updates continuing until the adventure movie arrives in theaters in December 2019. Here's what we know about the sequel so far, starting with the first trailer, which was posted on July 1:
That trailer fills in a lot of gaps on what the movie will be about, which is certainly helpful since there was no previous word on that front.
When Will Jumanji: The Next Level Be Released?
Jumanji: The Next Level is currently scheduled for release on December 13, 2019. That gives it exactly one week before Star Wars: Episode IX takes over the box office. Jumanji has faced Star Wars in a showdown before, when Jumanji: Welcome to the Jungle opened on December 20, 2017, just after Star Wars: The Last Jedi. Considering that both films picked up piles of money in 2017, there will still probably be room for both of them at the 2019 box office.
Star/producer Dwayne Johnson announced the current Jumanji 3 release date on Instagram back in June 2018:
Dates can change without notice, but this one should stick.
What Is The Jumanji: The Next Level Rating?
The MPAA has yet to announce an official rating, but it will probably be PG-13. The first Jumanji in 1995 was PG, but this is more of a direct sequel to Jumanji: Welcome to the Jungle, which earned a PG-13 rating in 2017 for "adventure action, suggestive content and some language."
It's still early days for Jumanji: The Next Level news, but considering how well Jumanji 2 did, there's a very high chance they won't change much about the basics for the 2019 movie. Welcome to the Jungle had a reported budget of around $100 million and the film made nearly $1 billion at the worldwide box office, per Box Office Mojo figures. It was the fifth-highest-grossing film of 2017 and the 42nd-highest-grossing film of all time. Of that total, $404.5 million came from the domestic box office, and $557.5 million from the foreign box office. No one really saw this coming, since the 1995 Robin Williams movie just made $262.8 million (not adjusted for inflation).
Who Is Writing And Directing Jumanji: The Next Level?
If it ain't broke... As suggested in the previous entry, the second Jumanji film was such a hit that Sony is bringing back the major players for Jumanji 3. According to Deadline, Sony asked Scott Rosenberg and Jeff Pinkner back to write a sequel, with Jake Kasdan returning to direct and help shape the story. Matt Tolbach will be producing, along with the Seven Bucks Production team of Dwayne Johnson, Dany Garcia, and Hiram Garcia.
Production Weekly (via MovieWeb) said Jumanji 3 was scheduled to start production January 21, and it wrapped in May 2019. Jumanji 2 filmed in Hawaii and Georgia, but Jumanji: The Next Level not only filmed in the usual jungles of Hawaii, the cast went to snow-capped mountains and also the desert, for new levels of the game.
What Is The Plot of Jumanji: The Next Level?
The trailer for Jumanji: The Next Level showed Spencer ended up back in the game, with the rest of the original high school crew heading back in to get him. Spencer's grandfather (Danny DeVito) and grandfather's friend Milo Walker (Danny Glover) both got stuck in the game with them -- playing The Rock and Kevin Hart's avatars, respectively -- adding a new level of hilarity. Back in June, Dwayne Johnson shared a photo from a development meeting, teasing just this on the plot:
He just loves to mess with Kevin Hart! The four high school teens of Welcome to the Jungle left the film as newfound friends, and they destroyed the game in the end. But, since we're dealing with fantasy and magic, no one should've expected the game to truly be destroyed. Jumanji 2 had some alternate endings that were discarded, THR reports, and it's possible the filmmakers will dip back into that well at some point.
Some of the actors shared ideas for the sequel. Jack Black said he wanted to head into space for an origin story. He wants to know where the game comes from, and who invented it, figuring it must be alien technology or from some "crazy jungle medicine man magic." Karen Gillan added that she'd like to see a really old man choose her avatar, Ruby Roundhouse, so she could go from playing an introverted teen in Welcome to the Jungle to channeling the mannerisms of an old man.
What Characters Are Returning For Jumanji: The Next Level?
Here's what we know: Dwayne Johnson, Jack Black, Kevin Hart, Karen Gillan, and Nick Jonas will return. In Jumanji 2, they played the respective avatars Smolder Bravestone, Sheldon Oberon, Franklin Finbar, Ruby Roundhouse, and Jefferson "Seaplane" McDonough.
Back in August, /FILM talked to director Jake Kasdan and asked if the same kids would play a new game of Jumanji (despite thinking they destroyed it). Kasdan said they were busy figuring all of that out. He did say he believed it would be a continuation of Jumanji as a video game, rather than the board game of the first film.
Dwayne Johnson As Dr. Smolder Bravestone
The Rock's game avatar, Smolder Bravestone, plays to his literal strengths. He's a confident and clearly very muscular archaeologist and international explorer. In Jumanji 2, Dwayne Johnson got to play against type when the person playing his avatar was nerdy, allergy-prone Brantford High School student Spencer. Playing strong Dr. Bravestone helped Spencer develop his own confidence and leadership skills. The first trailer for Jumanji: The Next Level showed Spencer's grandpa Eddie (Danny DeVito) ended up taking on the Bravestone avatar.
Jack Black As Professor Sheldon "Shelly" Oberon
Jack Black had a fun role in Welcome to the Jungle as Professor Sheldon Oberon. His cartographer was played by popular, self-absorbed pretty girl Bethany, who was not expecting to be Black's "overweight middle aged man" when she picked the avatar descriptor "curvy genius" when deciding to play the game. But, her character evolved over the course of the adventure. Hopefully Jack Black gets to continue to stretch his comedic chops in Jumanji 3. This time, as the Jumanji: The Next Level trailer showed, "Fridge" ends up in the "old, fat dude" avatar.
Kevin Hart As Franklin Finbar
Brantford High School football jock "Fridge" picked weapons and zoology expert Franklin "Moose" Finbar because he sounded "like a badass." To his surprise, he ended up in the much shorter body of Kevin Hart. Hence, size jokes. The set-up of Fridge and Spencer being former friends who reconcile through the game of Jumanji worked perfectly for the dynamic of Dwayne Johnson and Kevin Hart. The Central Intelligence co-stars have great comedic chemistry, so Jumanji 3 is going to have to harness that magic again. Based on the Jumanji: The Next Level trailer, that chemistry is put to great use. This time, Spencer's grandfather's friend Milo (Danny Glover) ends up in Franklin's body.
Karen Gillan As Ruby Roundhouse
Karen Gillan plays "killer of men" Ruby Roundhouse, a fierce martial arts and dance fighting expert. Her avatar was played by shy high school student Martha. But Guardians of the Galaxy and Avengers: Endgame star Gillan has gone on the record to say she'd love to see an old man play the Ruby avatar in a future movie. Interestingly enough, so far it looks like that's what happened for The Rock and Kevin Hart's avatars but not Karen Gillan's.
Nick Jonas As Jefferson "Seaplane" McDonough
Nick Jonas was something of a surprise addition to the group as avatar pilot Jefferson "Seaplane" McDonough. He was the avatar of gamer Alex Vreeke, a teen who got stuck in the Jumanji game in 1996. This storyline was a direct tie to the original 1995 Jumanji film, since Alex had taken shelter in the game world in a house built by the previous Jumanji player, Alan Parrish, portrayed on film by Robin Williams.
In Jumanji 2, the four main players are rescued by Alex, who was the fifth player that was missing and unplayable when the teens first picked up the game. Welcome to the Jungle ended with Alex being able to go back to his own time, and grow up to be Colin Hanks, who named his child after Bethany after she saved his life. We'll have to see how the pilot character of Seaplane is used in the third film.
What New Characters Are Joining Jumanji: The Next Level?
A few months ago, we got word on the first new stars joining the Jumanji 3 team. Ocean's 8 and Crazy Rich Asians star Awkwafina was said to play a "key" and "significant" character in this movie. Shortly after that news came out, Jumanji 3 cast list updates revealed that household name Danny DeVito would also be joining Jumanji 3. About a week later, it was revealed that Danny Glover would also be joining the cast. Now we know DeVito plays Spencer's grandfather Eddie with Glover as Eddie's friend Milo. DeVito ends up in The Rock's avatar, with Glover in Hart's, and hilarity ensues.
Dwayne Johnson, of course, posted about the new additions but didn't reveal anything about their characters beyond this little tease with his Danny Glover post: "The magic of our JUMANJI Universe is 'who turns into who?' and I'm excited for our [global] audience to join Danny and our entire cast on another wild and fun adventure." It's kind of fun seeing what surprises may be ahead, but there's more attention being paid to this movie, since Welcome to the Jungle was such a success, so they may not be able to hide all the tricks up their sleeves.
How Will Jumanji: The Next Level Connect To The Previous Films?
It was initially thought that Jumanji: Welcome to the Jungle would be a reboot of the Jumanji franchise. Instead, it was a sequel to the 1995 Robin Williams movie. It didn't have many references to the original, but it was clear that it was set in the same universe. Director Jake Kasdan said he plans to have Jumanji 3 connect to both previous films, but especially Welcome to the Jungle:
Jake Kasdan also seems fond of the timeline element -- that players return to where they started in the real world once they win, even if years have passed in the game; while the in-world game retains elements from previous players, like the nod to Alan Parrish.
Will There Be A Jumanji 4?
This is most likely up to the box office. You'd be hard-pressed to find anyone who expected Jumanji to get a sequel, never mind Jumanji: Welcome to the Jungle getting a sequel, too. Some people consider this to be Jumanji 2, since it's more of a direct sequel to Welcome to the Jungle with only passing references to the first film. But, some people also think 2005's Zathura: A Space Adventure is part of the Jumanji franchise, even though that movie's plot has no references to any Jumanji films. It was marketed as being set in the Jumanji world, as it's based on Chris Van Allsburg's sequel to the Jumanji novel.
Either way, it's too soon too to say if Dwayne Johnson, Jake Kasdan and company will return for a Jumanji 4. If Jumanji: The Next Level cleans up at the box office this December, and into early 2020, that'll be a good sign. But, they'd also have to come up with a worthy idea, instead of just continuing because it might make more money. If Jumanji 3 disappoints on the story front, it would put a damper on any hopes for a fourth film. So, we shall see.
This Jumanji: The Next Level guide will be updated periodically as more news, trailers, photos, and updates from The Rock come out before the December 2019 release. In the meantime, keep track of all the amazing films coming to theaters in 2019 in our handy film schedule.
Your Daily Blend of Entertainment News
Gina grew up in Massachusetts and California in her own version of The Parent Trap. She went to three different middle schools, four high schools, and three universities -- including half a year in Perth, Western Australia. She currently lives in a small town in Maine, the kind Stephen King regularly sets terrible things in, so this may be the last you hear from her.