Jumanji 3, An Updated Cast List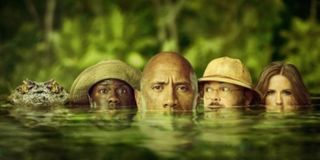 Jumanji: Welcome To The Jungle was the textbook example of an unexpected hit back in 2017. Emboldened by its successful revitalization of the Jumanji brand, a sequel was quickly put into the works, and as such the mad scramble was on to get the film ready for its December 17, 2019 release date.
Taking on the box office so close to a Star Wars sequel may seem foolish, but it certainly worked for the last Jumanji movie, and Jumanji 3 , a.k.a. Jumanji: The Next Level, has one hell of a cast to help it even the odds. If you want to know the score about what's going on with the new Jumanji sequel in general, feel free to read up on the news with our "What We Know So Far" guide. For now though, let's see who's returning, and who's new, to the world of Jumanji!
Dwayne Johnson
Every group needs an intrepid leader, and as such, Smolder Bravestone is the defacto leader of the group of avatars returning from Jumanji: Welcome To The Jungle. But having Smolder returning to kick all sorts of ass just wouldn't be the same if any other than Dwayne Johnson was playing the role. So thankfully, hearing his name among the returning cast members, as well as producer of Jumanji: The Next Level, was the sort of blessing this project needed.
There's been plenty of action in Johnson's life since Jumanji: Welcome To The Jungle's release, as he saw Rampage and Skyscraper, as well as the third season of Ballers jump off in 2018. Not to mention, 2019 is a pretty big year for Dwayne Johnson in and of itself, as both his performances in Fighting With My Family and Hobbs & Shaw will hit the screens throughout 2019. So Jumanji: The Next Level's filming and release at the end of that very year should be a cherry on top of another productive year.
Karen Gillan
Another vital co-star in the Jumanji universe is, of course, Karen Gillan. After all, what fun would it be to see Smolder Bravestone returning without Ruby Roundhouse to fight alongside him? Kicking, punching, and even dancing her way through danger are her specialties, as Ruby was quite the brawler in the previous Jumanji sequel. So even if she's, say, controlled by an old man playing her game, don't expect any of that to change too much.
2019 is also a pretty fantastic year for Karen Gillan, as she'll not only see Jumanji 3 heading to theaters, but she'll also have a couple of animation projects she'll be lending her voice to in the year. Both the animated adaptation of Jack London's Call Of The Wild, as well as Blue Sky Animation's Spies in Disguise, will hear Gillan's voice spouting from two different animated avatars. But, of course, her most anticipated role of 2019 is that of Nebula, in the Marvel Studios' mega blockbuster Avengers: Endgame.
Kevin Hart
Zoologist. Weapons storage. Allergic to cake. Those are all vital terms that can identify Smolder Bravestone's official sidekick, Franklin "Moose" Finbar, and they're going to be important to identifying his role in Jumanji: The Next Level. More important is the fact that Kevin Hart will be stepping into the shoes, and undoubtedly those backpack straps, to reprise his Jumanji: Welcome To The Jungle character.
In-between Jumanji: Welcome To The Jungle and Jumanji: The Next Level, Hart has seen his career diversified as much as anyone else in the cast has. Not only did he see a return to his usual comedy schtick in Night School, but Kevin Hart also scored an surprise hit with the recent release of The Upside. And Jumanji: The Next Level isn't his only sequel for 2019 either, as he returned as the voice of rabbit revolutionary Snowball in Universal and Illumination's The Secret Life of Pets 2.
Jack Black
Professor Shelly Oberon is a master in the world of cryptography, cartography, and many other fields that a learned person would be the master of. That is, if he's not busy being eaten by hippos, or espousing his current controller's dismay that they aren't exactly the rugged Indiana Jones type. But no matter who's controlling Professor Oberon, Jumanji: Welcome To The Jungle wouldn't have been complete without Jack Black carrying the character through the film, and his return to Jumanji: The Next Level only proves it!
Black has certainly been keeping up his family friendly credentials as of late, what with The House with a Clock in Its Walls and a brief appearance in Goosebumps 2: Haunted Halloween making his 2018 super productive. Though it does look like he's pretty open for 2019, which is good for the sake of his newly launched gaming channel on YouTube, "Jablinski Games." Of course, that's whenever he's not filming Jumanji: The Next Level.
Nick Jonas
Jefferson "Seaplane" McDonough knows danger like he knows how to pilot a helicopter: quite well, thank you very much. The last piece to the returning Jumanji: Welcome To The Jungle crew, his rugged countenance played by Nick Jonas would surely have been missed if it were absent from Jumanji: The Next Level. Not to mention, Jonas's character was a vital part to the backstory of the game, as well as how it tied into the Jumanji mythos overall; so even though he wasn't one of the more publicized characters in the film, he's pretty important.
Fortunately, it's been confirmed that Nick Jonas will be back as "Seaplane" McDonough for Jumanji: The Next Level, rounding how the Jumanji game's quintet. The big question now is who will be playing as the character. At the end of Welcome to the Jungle, the timeline reset so that Alex Vreeke was never trapped within the game for 20 years, and after being freed, the four main teens reunited with Alex, now played by an adult Colin Hanks. We'll circle back to that a little later.
Ser'Darius Blain
In real life, Ser'Darius Blain is over 30, but in Jumanji: Welcome to the Jungle he capably plays high school player and occasional homework cheater Fridge, who ends up in Kevin Hart's -- or should I say Mouse Finbar's -- body. In a new announcement we've learned he, along with the other "teen" characters in the last flick, will be returning for Jumanji: The Next Level. That said, Fridge will not be playing as Mouse Finbar again. Instead, he'll be put into the body of Sheldon Oberon, and it sounds like the teen is not a fan of this tradeoff.
Alex Wolff
Alex Wolff played Young Spencer in Jumanji: Welcome To The Jungle. If you've seen the flick, you'll remember that he's the character who eventually switches into the game's character Dr. Smolder Bravestone. For Jumanji: The Next Level, it turns out that Spencer is responsible for repairing the Jumanji video game. The problem is, instead of playing through the game again as Smolder Bravestone, Spencer's missing within the Jumanji world, and it's up to his friends to find him. As for who is playing as Smolder this time, we'll get to that later.
Morgan Turner
Morgan Turner's Young Martha will most definitely be back, along with the rest of her younger compatriots. The deal means that nearly all of Welcome To The Jungle's cast members are back in the fold for Jumanji: The Next Level and we can't wait to see what that entails. Martha is the only teen from the last movie playing as the same character, so expect to see more of her kicking ass as Ruby Roundhouse.
Madison Iseman
Madison Iseman, along with the other teens, will be returning in Jumanji: The Next Level. She plays young Bethany in the movie and her character is particularly significant. She saves the life of Alex and when the whole gang returns to the present they track Alex down, learning that Alex had named his own kid Bethany in gratitude for her saving his life. Young Bethany went from selfie queen to a teen with a lot of empathy during the course of the 2017 flick and it will be nice to see whether or not she returned to her social media roots or maintained a down-to-earth demeanor since the events in Welcome to the Jungle. However, in the Jumanji: The Next Level trailer, Bethany isn't shown playing as one of the characters, so it's unclear if she's lost like Spencer or if she wasn't even sucked into the game.
Colin Hanks
For a while we were in the dark about if Seaplane's McDonough's return in Jumanji: The Next Level meant that his original player, Alex Vreeke, would be back as well. We can wonder no longer, as Colin Hanks, who cameoed as an adult Alex at the end of Jumanji: Welcome to the Jungle, confirmed he will appear in Jumanji: The Next Level. though he would not divulge any details on how he's involved. The obvious answer is that Alex will be playing as Seaplane again and join the other characters in the Jumanji video game again. However, we can't rule out that someone new will play as Seaplane instead, and that Alex is only making a minor appearance before or after the latest round of craziness starts.
Rhys Darby
When Jumanji: Welcome to the Jungle's four main characters were thrown into the game, they were eventually greeted by Nigel Billingsley, the NPC who informed them about the story and guided them throughout their journey. While it remains to be seen if Jumanji: The Next Level will be set within that same game or take place in a completely different location, Billingsley will remain a constant, as Rhys Darby is reprising the role. No doubt he'll once again be providing advice to the players, but perhaps Jumanji 3 will give him a little bit more to do this time around.
Awkwafina
The first of our new cast members needs very little introduction, as Awkwafina had two pretty big movies last year: Ocean's 8 and Crazy Rich Asians. Now, she's entering the ring of big budget family entertainment, as Jumanji: The Next Level has enlisted her as one of the new characters that will be introduced. Judging by the trailer, it looks like Awkwafina's playing a character in the game, though that individual still hasn't been identified. Awkwafina will also be heard in another big Sony sequel, The Angry Birds Movie 2, set for release this August.
Danny DeVito
Karen Gillan has gone on record as stating that she'd love to have an older man controlling her character in Jumanji: The Next Level, as it would challenge her to take on the mannerisms of such a character. Well, Ruby Roundhouse will still be controlled by Martha, but two older men will indeed be controlling two of Jumanji's other characters. First up, we have Danny DeVito, who is playing Eddie Gilpin, Spencer's cranky grandfather. Following in his grandson's footsteps, Eddie will be forced to play as Smolder Bravestone, resulting in Dwayne Johnson giving a much different performance than he did in Welcome to the Jungle.
Danny Glover
Last, but not least, Jumanji: The Next Level has most recently added a rather lethal weapon to their arsenal. Danny Glover was announced as the latest cast member to join the Jumanji: The Next Level family, which posed the question of whether the two of them will be a pair of friends who stumble upon one of their grandkids' video games. Sure enough, Glover is playing Milo Walker, a friend of Eddie Gilpin's, and the two of them check on the main characters when they hear the video game making commotion. Sucked in with Eddie, Milo replacing Fridge as Mouse Finbar, allowing Kevin Hart to stretch his acting chops with a killer Danny Glover impression.
Prepare for adventure this Christmas, as Jumanji: The Next Level is scheduled to debut in theaters on December 13, 2019. If you're interested in seeing what else is happening throughout the year's box office calendar, feel free to head over to our 2019 movie schedule to plan your schedule accordingly!
Your Daily Blend of Entertainment News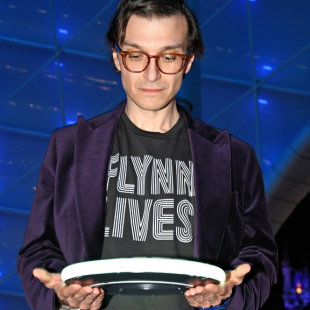 Senior Movies Contributor
CinemaBlend's James Bond (expert). Also versed in Large Scale Aggressors, time travel, and Guillermo del Toro. He fights for The User.