Kevin Bacon Moves Into Blumhouse Thriller 6 Miranda Drive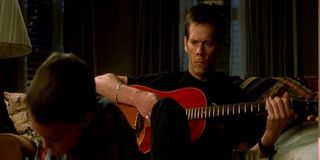 Part of the success strategy of horror movie maker Blumhouse Productions is to get top-notch talent to headline their deeply creepy tales of terror. Sinister starred Ethan Hawke. Insidious: Chapter 2 starred Patrick Wilson and Rose Byrne. The Purge: Anarchy stars Zach Gilford and Michael K. Williams. Next, 6 Miranda Drive will star Kevin Bacon, and possibly Radha Mitchell.
THR reports Bacon has signed on to headline 6 Miranda Drive and that Mitchell is now in talks to co-star. Jason Blum will produce, and Aussie horror auteur Greg Mclean wrote and will direct. Horror aficionados might know Mclean as the helmer of the creature feature Rogue, the brutal slasher Wolf Creek and its upcoming sequel.
Check out trailers for the killer croc flick Rogue and Wolf Creek 2 below:
6 Miranda Drive follows a family who picks up a heinous souvenir while on a family vacation to the Grand Canyon. Rather than a lame t-shirt or some regrettable seashell art, they accidentally bring home a fear-feeding supernatural force that will make their lives hell. Presumably Bacon will play the father of the family, which might mean Mitchell is being eyed to play the mother. Should she successfully sign on, this will be Mitchell's second project with Mclean. You might have spotted her in the Rogue trailer above.
Mitchell seems a solid choice for 6 Miranda Drive, as she is a recurring scream queen. To date she has starred in such scary cinema as the sea-set thriller Visitors, The Crazies remake, Silent Hill and Silent Hill: Revelation 3D.
For his part, Bacon is an old hand at horror. In 1980, he had a memorably bloody part in the classic slasher flick Friday the 13th. Ten years later, he doubled up genre cred thanks to the horror-comedy Tremors and the sci-fi horror thriller Flatliners. Finally, in 1999 he gave us the chilling ghost story Stir of Echoes. But since then, it's been a serious dry spell for scares…well, unless you count his heralded serial killer-centric TV drama The Following. All the same, cinema is due for another Bacon-laced horror story.
6 Miranda Drive will shoot in Los Angeles next month.
Staff writer at CinemaBlend.
Your Daily Blend of Entertainment News
Thank you for signing up to CinemaBlend. You will receive a verification email shortly.
There was a problem. Please refresh the page and try again.