Kevin Costner Becomes The Nick Fury Of Spy Movies For Jack Ryan And Without Remorse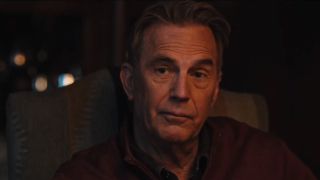 (Image credit: Paramount Network)
The Kevin Costner comeback is finally happening, and I for one couldn't be happier about it. After starring in A&E's stunningly successful Hatfields & McCoys miniseries earlier this year, and landing the role of Pa Kent in Zack Snyder's upcoming Man of Steel, Costner has officially nabbed two more big roles-- or, actually, one role in two different movies.
He's not going to be quite as overcommitted as Samuel L. Jackson playing Nick Fury in all the Marvel movies, but the idea seems to be similar. Deadline reports that Costner will play the character of William Harper in both the Chris Pine-starring Jack Ryan movie and the spinoff Without Remorse, which could star Tom Hardy as CIA operative-in-training John Kelly. Christopher McQuarrie is still planning to write and direct, as we reported a few weeks back, and the studio is "courting" Hardy to play the lead role, which could lead nowhere. But Costner would act as the linchpin between the two films, the man who recruits and mentors both Jack Ryan and John Kelly into the CIA, and confirms that they're operating within the same universe-- kind of the same concept that connected The Bourne Legacy to the other Bourne films, but planned out way ahead of time.
If you think of Samuel L. Jackson's Nick Fury as the kind of bombastic, eyepatch-wearing boss who seems perfect for the escalated world of The Avengers, Costner is similarly perfect for the gritty, down-to-earth world of the Jack Ryan series, which pretends to be so real that many of us still assume that's what all CIA agents are doing, all the time. With Kenneth Branagh set to direct the Jack Ryan film, and also play its villain, and someone as talented as McQuarrie handling the spinoff (not to mention Hardy potentially starring), there's more than enough talent here to make this new spy franchise worthwhile. I'm still not sure how two parallel franchises, set in the same universe but not about superheroes, will pan out, but I trust all of these guys to at least let them try.
Your Daily Blend of Entertainment News
Staff Writer at CinemaBlend