Kevin Costner NFL Comedy Draft Day Back On At Lionsgate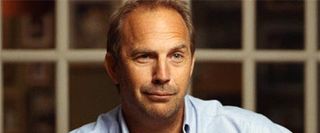 Given the massive popularity of pro football, you'd think a Hollywood comedy revolving around an NFL team would be a no-brainer for any studio. But Draft Day, a spec script with big names like Ivan Reitman and Kevin Costner surrounding it, saw its option at Paramount run out this fall-- only to wind up landing at the top of the annual Black List of best unproduced screenplays. A Black List script with that kind of talent interested is basically the movie industry equivalent of a loose ball-- someone is going to grab it, and quick.
And now it looks like Lionsgate is going to be the ultimate victor of that shuffle. Vulture reports that the studio has been in talks with Ivan Reitman, currently on board as a director-producer, and that negotiations are about to begin with him as well as Costner, who had been set to star. He'll play the manager of the Buffalo Bills, a perennial underdog that's suddenly given an unexpected windfall: a first-round draft pick. The story won't be so much about the actual game but the wheeling and dealing that takes place behind the scenes, but based on the buzz surrounding the script, we're sure the action is just as exciting as anything that might happen on the field.
Though it's been ages since he headlined a hit, Costner is gearing up for a major comeback, starting with his starring role in the surprise smash miniseries Hatfields & McCoys and now leading into roles in two huge movies this year, Man of Steel and Jack Ryan. If those two put him back on top of the world again, Draft Day could be even more of a slam-dunk hit-- which is exactly what Lionsgate is counting on.
Staff Writer at CinemaBlend
Your Daily Blend of Entertainment News
Thank you for signing up to CinemaBlend. You will receive a verification email shortly.
There was a problem. Please refresh the page and try again.