Kevin Hart Hosting The 2016 Oscars? Here's What He Said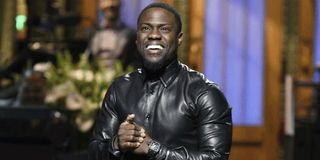 There's no doubt about it -- the Oscars need to shake things up after that less-than-stellar ceremony earlier this year. Neil Patrick Harris was as enjoyable as ever, but the ratings were incredibly low and the musical numbers were the only real highlights of the night. (At least, in my opinion they were.) Could someone like, say, the uproarious Kevin Hart turn things around for the 2016 Oscars? The comedian is definitely eyeing the hosting gig.
Speaking with Philly.com, Hart made it crystal clear he's looking to succeed Harris as the host of next year's awards show.
Hart has been killing it in the comedy arena, appearing in both his widely acclaimed stand-up runs and various movies. He can be seen next opposite Will Ferrell in Get Hard, while he's currently working on Ride Along 2 with Ice Cube. Audiences just couldn't get enough of him, especially since he's comically short compared to his co-stars. He presented at the Oscars this year, but is he ready to host such a major event?
He definitely has the humor for it, and, frankly, the Academy could do well in bringing someone like Hart back to the grand stage. At the very least, it would show the Academy trying to bring more diversity to its telecast. While the voters wouldn't include more non-white male nominees just for the sake of it — the lack of racial and gender diversity among the nominations speaks more to the climate of the movie industry as a whole — they could at least give the hosting job to Kevin Hart. And this arguably wouldn't be seen as a ploy, because he is really funny. He's proven time and again that he knows how to work a crowd. Given his own material, and not what he had to read on a prompter as an Oscar presenter, his star would shine bright.
Much like the Oscar voters themselves, the ceremony has been criticized for appealing to an older crowd. Hart, however, would look to angle his material towards younger audiences, in the event he's named the next Oscar host. As Philly.com noted, he spoke about the issue on Live With Kelly and Michael, saying how recent hosts haven't really gone after that younger demo in some time. Though, you've gotta hand it to Ellen DeGeneres' epic Oscar selfie. A selfie is practically synonymous with uppity tweens, teens and hipsters.
Your Daily Blend of Entertainment News
Thank you for signing up to CinemaBlend. You will receive a verification email shortly.
There was a problem. Please refresh the page and try again.