Kevin James Woos Rosario Dawson Doggie Style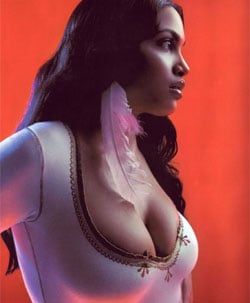 Rosario Dawson has signed up to be the obligatory love interest of Kevin James in The Zookeeper. If there's ever been a more unlikely romantic pairing, I can't think of it. Does anyone believe there's any way a Rosario Dawson would ever be interested in a Kevin James? Maybe that's the point, since the movie's about James going to extreme means to get the girl. Those extreme means involve him getting romance advice from gorillas.
Not just gorillas, but all sorts of zoo animals. The Zookeeper is about a keeper whose animals try to teach him the ways of love via their animalistic methods of dating and mating. It sounds kind of like Doctor Doolittle, but behind bars. Rosario it seems, will be the women he tries to do doggie style.
Variety says they plan to start shooting it late this summer in Boston.
Your Daily Blend of Entertainment News
Thank you for signing up to CinemaBlend. You will receive a verification email shortly.
There was a problem. Please refresh the page and try again.