The Kevin Smith Biopic Shooting Clerks Drops Its First Trailer, Watch It Now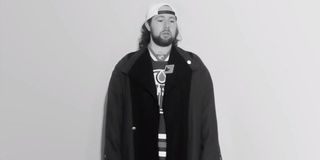 Kevin Smith is a bona-fide pop culture darling. He's gained this status not just through his films, but through his die-hard enthusiasm for all things nerd too. Thanks to this energy, he has become a savant to millions, and it was always likely that at some point someone would bring the story of how he made his first film to the big-screen itself. And Shooting Clerks does just that. You can check out the debut trailer for the film below.
Lovely. While there's no denying that Shooting Clerks looks a little rough around the edges (and its song choice is a tad on the nose and cheesy), any of you who are already well-versed in the struggles that Kevin Smith, Scott Mosier et. al. went through to make Clerks will have almost certainly emitted a smile at this adoring re-imagination. That's in no small part thanks to the cameos of Brian O'Halloran and Marilyn Ghigliotti, and while there's no sign of Kevin Smith himself, let's hope he makes an appearance in the film product.
Written and directed by Christopher Downie, Shooting Clerks' synopsis reads, "The true life tale of a twenty-something convenience store clerk who turned his mundane life into a cinematic work of fiction." Of course, that same store clerk eventually went on to direct the likes of Mallrats, Dogma, Chasing Amy and Clerks II.
According to Shooting Clerks' trailer, in order to undergo his transformation from convenience store clerk to indie filmmaker he just needed a "splash of pop culture," "half a pound of facial hair," "an olive green trench coat," "a semester and a half of film school" and the helping hands of his close pals. All of which conspired to turn him into this guy….
For those unfamiliar with the story of the making of Clerks, it is actually a rather interesting one, as the 23-year-old Kevin Smith pulled out every trick in the book to make his directorial debut. He sold all of his comics, maxed out a number of credit cards, and even used college funds to raise the $27,575 that he would eventually use as the film's budget. All this sacrifice – not to mention hard work – paid off in a big way, however, as his little movie wound up amassing a gigantic cult following. Even though it's crudely assembled, and unashamedly potty-mouthed, Clerks is the definitive DIY American indie of the modern era, and it influenced a generation of filmmakers. It's also sweet, hilarious and is just as fresh over two decades later.
You can keep track of Shooting Clerks' progress by heading over to their Twitter and Facebook pages, and if you're interested in helping to fund their effort you can head over to The Kevin Smith Biopic – Shooting Clerks' Indiegogo site too.
Your Daily Blend of Entertainment News