Kevin Smith's Weird New Movie Tusk Has Some Weird New Footage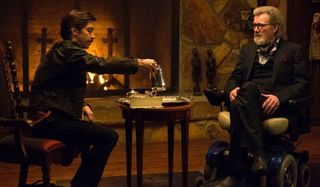 The Following Video Is NSFW. It contains several uses of the f-bomb and given the film's basic subject matter, I'm comfortable saying there are "adult themes" in play. If you don't feel you can handle it, are under eighteen years old or are inside an office that doesn't take kindly to such material, please bail on the clip now.
Kevin Smith hasn't released a feature film since 2011, when he made an unexpected jump to the land of horror cinema with the intriguing (and uneven) Red State. The director and geek icon got back into the action this past weekend when his latest feature, Tusk, played to appreciative crowds at The Toronto International Film Festival. We've got the newest clip from the movie being hailed as a wacked out masterpiece for your consideration.
In the feature, Justin Long stars as a podcast host who likes to travel around listening to weird tales from interesting people. He gets more than he bargained for when he runs into an ancient mariner played by Michael Parks. Parks seems like a kindly old man who's a little lonely, but he has something special in store for Long's character – something a little Human Centipede-esque. The clip above, from A24's YouTube channel, finds Long's character realizing just how dangerous and dire a situation he's in.
For the past few years, Kevin Smith has talked about retiring from the movie making business. He's spent a lot of time filming his AMC reality series Comic Book Men, and hosting more podcasts than seems humanly possible. However, the retirement fever seems to have passed for the filmmaker – who's not only got Tusk ready for release on September 19, but is also reportedly hard at work trying to get a Clerks 3 up and running, while producing a horror anthology based on the Christmas legend of Krampus. This is good news for Smith's army of fans.
Tusk marks the director's second foray into the world of horror cinema, a marked departure from his more traditional comedy fare. His first, Red State, showcased Smith's diversity as a filmmaker even if it wasn't the perfect genre film. That feature was buoyed along by a mesmerizing performance from Michael Parks, so it's no surprise to see Smith reuniting with the actor for his second trip to the dark side of cinema.
The film's evolution is almost as bizarre as the script itself. Smith first started discussing the idea with friend and producer Scott Mosier on one of his many podcasts after coming across a very strange personal ad online. The ad turned out to be a hoax, which earned its creator (Chris Parkinson) an associate producer credit on the finished project.
TIFF's Midnight Madness crowd has come down decisively in favor of Kevin Smith's odd little film. You can read a selection of some of their reaction tweets here, which should help you decide if this slice of cinematic weirdness is something you might enjoy. I was on the fence about Tusk for months, but the early buzz has rekindled my interest in seeing what sounds like it amounts to Kevin Smith's version of The Human Centipede.
Your Daily Blend of Entertainment News
Thank you for signing up to CinemaBlend. You will receive a verification email shortly.
There was a problem. Please refresh the page and try again.