Kick-Ass 2 Isn't Happening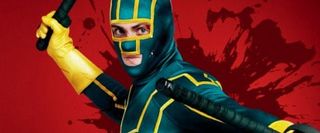 The writing has been on the wall, and now it's pretty much confirmed. Kick-Ass 2 isn't happening.
The news of the promised sequel's dissolution comes from Jane Goldman who adapted the Mark Millar comic for the first film. Talking to Absolute Radio she says, "I don't think it's going to happen. At the moment it's not in the works. We're all doing different things at the moment. We would love to do it again, but we've all been pulled in different directions."
This has been coming for awhile. Back in January we learned that they hadn't even started work on Kick-Ass 2, and that director Matthew Vaughn was doing something else first. Now it seems it's not so much that he's doing something else first, as he's probably not doing Kick-Ass 2 at all.
During the course of the interview, Goldman tries to leave some room for hope. She insists that they just want to make sure the story is right before they do anything with it, but if you pay attention to movie news with regularity, then you know that's the sort of thing someone says when they don't plan on doing something but don't want to piss off its fans. Cross Kick-Ass 2 off your checklist.
Your Daily Blend of Entertainment News