Killer Inside Me Trailer: Jessica Alba Prostitutes Herself For Casey Affleck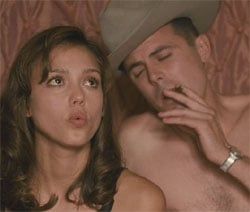 The surprising thing about the trailer for director Michael Winterbottom's The Killer Inside Me isn't that Casey Affleck seems brilliant. I've seen The Assassination of Jesse James. I've seen Gone Baby Gone. I know how good Ben Affleck's little brother can be. No the surprising thing here is that Kate Hudson is in it, and the trailer at least, seems good.
Kate Hudson hasn't been in a good movie, an even halfway bearable movie, since Almost Famous in 2000. It's one of the most reliable track records in Hollywood. If Kate Hudson's in something, you know it's going to suck. So even though the trailer seems kind of brilliant, it's hard to believe The Killer Inside Me will be anything but terrible. Hudson has taken down bigger talents than Affleck and she's perfectly capable of ruining a little independent film like this one. Our own Katey Rich's review from Sundance earlier this year seems to support that notion. She called The Killer Inside Me "clichéd" and "overly familiar" and "nasty", ranking it one of the worst movies she saw in Park City this year.
Still, there's this seductive trailer which, looks almost as though it's for a Coen brothers movie. The film stars Affleck as a small town sheriff's deputy who becomes entangled with a prostitute (Jessica Alba) and in the process unleashes his own dark urges. Watch The Killer Inside Me trailer below or in HD on Apple (opens in new tab) and let us know what you think.
Your Daily Blend of Entertainment News