The King's Speech Scribe Adapting Alexander Pushkin's Queen Of Spades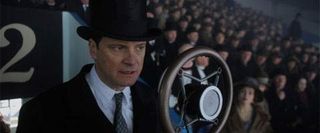 After winning an Academy Award, a lot of doors open. And if you're already 75 years old when you win, you'd think you might want to walk through as quickly as possible. Well, for a man that age, walking fast isn't exactly easy and definitely not the M.O. of the Oscar-winning screenwriter behind last year's Best Picture winner The King Speech. Almost a full year after winning Best Original Screenplay, David Seidler has finally announced his followup project, an adaptation of famed Russian author Alexander Pushkin's Queen of Spades.
Screen Daily was the first to break the news that Seidler has chosen to adapt Pushkin's short story for the big screen. Published in 1833, the plot follows a Russian officer's obsession with uncovering the secrets of a "money-spinning card cheat." Sounds little like the obsession-driven The Prestige, a Christopher Nolan film which also uses obsession and magic as the basis for a morality play. However, Seidler won't be confining himself to period pieces since the award winning scribe is planning one of those ever popular 're-imaginings' to transport Pushkin's celebrated morality tale to present day. Honestly, this sounds like the perfect project for the talented and research-oriented British/American writer.
The article doesn't specify if this contemporary update will still take place in Russia or if Seidler is planning to transplant the tale to a Western setting, but with the money behind it and the director attached, I would wager that the Russian setting remains in tact. Fyodor Bondarchuk's Art Pictures Studio is (partially) financing Seidler's adaptation and have brought in Pavel Lungin to direct. Lugin is a three time Palme d'Or nominee at Cannes so the production certainly won't be lacking in talented artists. Seilder also won't be the first to adapt Pushkin's work as Russian composer Tchaikovsky based his 1890 opera on the short story, music which the film intends on featuring. Tchaikovsky updated? Where's Clint Mansell?
Your Daily Blend of Entertainment News
Your Daily Blend of Entertainment News
Thank you for signing up to CinemaBlend. You will receive a verification email shortly.
There was a problem. Please refresh the page and try again.