Kristen Johnson And Richard Lewis Join Amy Heckerling's Vamps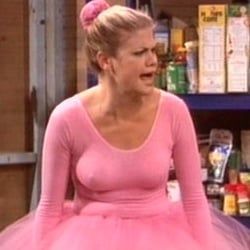 OK, so Amy Heckerling's directing career hasn't exactly gone that well since the days of Clueless. Her last film I Could Never Be Your Woman, despite starring Michelle Pfeiffer, Paul Rudd and Saoirse Ronan, went directly to DVD, and the only person who wants to talk about 2000's Loser is Jason Biggs himself. But I'm holding out hope for Vamps, a comedy Heckerling is directing with Alicia Silverstone and Krysten Ritter starring as a pair of young female vampires enjoying the New York City nightlife, with Sigourney Weaver as a "bloodthirsty stem vampire," whatever that means.
Now leftover 3rd Rock From The Sun and Curb Your Enthusiasm fans can share my cautious hopes. Kristen Johnson and Richard Lewis (via THR) have joined the cast, Johnson as a Mrs. Van Helsing who is naturally suspicious when her son comes home with Ritter's vampire character, and Lewis as an ACLU lawyer who fits in to this story somehow, I'm sure. Filming stars in Detroit next week, and though I'm disappointed that the Great Lakes State will be standing in for the Greatest City in the World, I'm still pulling for Heckerling and her team of lady actresses. If cashing in on the vampire craze is what it takes to get Heckerling back into fine form, I can accept it.
Your Daily Blend of Entertainment News
Staff Writer at CinemaBlend