Kristen Stewart Is Somehow The First American Actress In History To Win A Cesar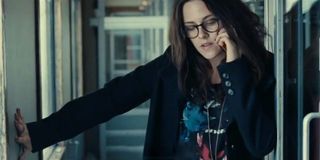 Here in America, Kristen Stewart is not exactly deemed a quality actor by the majority. Blame it on Twilight or her lack of variety in the characters that she portrays, but overall there is a fairly general consensus that Stewart probably won't be up for an esteemed Academy Award anytime soon. But wait. Prepare to be shocked, and rethink that last claim, because Kristen Stewart just won the French equivalent of an Oscar, a César, and she's the first American actress ever to do so.
At France's most prominent film awards ceremony on Friday, Stewart won the best supporting actress for her role in Olivier Assayas' Cloud of Sils Maria. According to Variety, the young actress was not only excited about her win, but claimed that this is only the beginning of her French acting career. She touched on the courage of French film backstage at the ceremony:
The drama written and directed by Olivier Assayas (Cold Water, Irma Vep, Clean) tells the story of Maria Enders (Juliette Binoche), a successful actress and her loyal assistant Valentine (Stewart). Maria agrees to appear in a revival of the play that had once launched her career but now as the older role. Check out the trailer:
The film premiered at the Cannes Film Festival to extremely positive reviews with critics praising the performance of Stewart claiming it as her best role to date, and will surely change perception of the actress. And, apparently the critics were right, as Stewart won for best supporting actress becoming the first American actress to take home a César, and only the second American to win after Adrien Brody in 2003. The film itself was highly praised for its elegance and intelligence, spotlighting another incredible performance from Binoche. The drama received five other César nominations including best film, best director, best actress, best original screenplay and best cinematography.
Stewart's past awards and nominations come primarily from MTV Movie Awards and Teen Choice Awards for her performance as Bella Swan in The Twilight Saga. But recently the young actress has been trying out different types of roles, primarily in independent films, most likely to better her reputation. This prestigious award is sure to gain Stewart the respect she desires outside of the teen romance flicks associated with the actress.
Your Daily Blend of Entertainment News