Twilight + Marvel? Kristen Stewart Would Love To Join This Marvel Franchise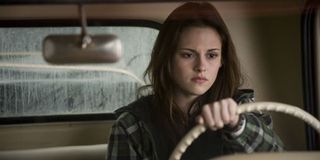 Kristen Stewart has been going down a different path ever since the final installment of the Twilight series. After taking a quick break following the release of The Twilight Saga: Breaking Dawn - Part 2, she has been appearing in smaller films such as Camp X-Ray, Clouds of Sils Maria, and most recently Still Alice (alongside Julianne Moore who just nabbed an Oscar nom for Best Actress). But, despite Stewart's time down indie film row, she won't leave bigger budget films out of the picture completely, and claims she would love to play a role in a Marvel movie, specifically Captain America.
With all the hate that Stewart sometimes gets, she shouldn't be underestimated. The actress is only 24 years old and already has 33 film credits ranging in genre and bringing in a whole lot of money. So when Stewart admits interest in something, it is not such a far-fetched idea to think of it materialized, even if most comic book fans are not necessarily rooting for her. When asked about the potential of signing on to a blockbuster Marvel or DC film, Stewart told Yahoo Movies:
Stewart talked about her role as Snow White in big-budget film, Snow White and the Huntsman which was a dark fantasy-action film with similar qualities to Marvel movies, most specifically Stewart co-starred with Chris Hemsworth, who put down Thor's hammer and picked up an axe as the Huntsman. I'm too sure about Stewart's pitch of Captain America, but I do appreciate the fact that she wants to show that she can play more than just 'Kristen Stewart' roles. Because we all know those roles—the quirky, pouty, kind of tomboyish soft-spoken Stewart that shows up in almost every one of her movies. And it does seem like she is trying to step out of that mold.
Most recently Stewart played daughter to Julianne Moore in the new drama Still Alice which follows a professor diagnosed with early onset Alzheimer's disease. And apparently Moore played a major part in helping Stewart land the role. The two have been close for years, and Stewart talked about being drawn to the role because of its depth. This all coming from Bella Swan is pretty impressive. I don't want to hate on Stewart, I actually think her 'Kristen Stewart' role can fit in certain movies. I liked her in Adventureland and thought she did a pretty good job as Joan Jett in The Runaways. But, I don't see that personality in a Marvel or DC heroine. Maybe I'm wrong, and maybe Stewart will prove me wrong. I haven't seen her in Still Alice yet, but hope she can show us some acting chops, and play someone that is not just 'Kristen Stewart'.
The young actress has an interesting array of films ahead, so hopefully we can see her expand into different roles than the her previous limitations. She just completed filming Tim Blake Nelson's drama about about an ensemble of New Yorkers, entitled Anesthesia and she also stars alongside Jesse Eisenberg in an action-comedy entitled, American Ultra. Both will come out later this year.
Your Daily Blend of Entertainment News