Kristen Wiig's Imogene Promises A Jersey Shore Annette Bening, Glee's Darren Criss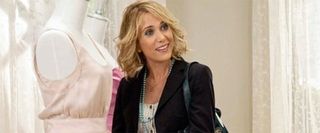 We've known for some time that Kristen Wiig's post-Bridesmaids project would be the comedy Imogene, co-directed by American Splendor helmers Shari Springer Berman and Robert Pulcini. And while the basic plot remains intact – Wiig plays a depressed woman who fakes a suicide to get back at her ex, only to end up having to move in with her grotesque mother (Annette Bening) – we're learing even more details that are only sweetening the already appetizing pot.
Case in point: Bening isn't just an absurdly overdrawn maternal figure. She'll model herself after a Jersey Shore cast mate or, perhaps, one of the shrews on The Real Housewives reality program. Speaking with Vulture at the premiere of The Whistleblower, Imogene producer Celine Rattray elaborated on the Garden State influences of Wiig's anticipated comedy. She says Bening will be an over-the-top, stereotypical Jersey mom, confirming that her outfits and makeup will be "tacky," "inappropriate" but "fun." In the story, Rattray also confirms that Glee star Darren Criss is on board as Wiig's younger love interest, whom she falls for after moving back home into her mother's Jersey house.
Bening channeling her inner JWoww? Criss romancing Wiig? Heck, Wiig in just about anything? Obviously, we're in. Still, I wonder if Wiig is feeling any pressure. There's no question the financial success of Bridesmaids ($235.1 million internationally and counting) earned Wiig some clout. But it also earned her all new sets of eyeballs, far more than were ever generated by Saturday Night Live of her supporting roles in films like MacGruber, Adventureland or Paul. Wiig's a talent who has been waiting to break out. Now that she's out, let's see what she does with the attention.
Movie junkie. Infatuated with comic-book films. ReelBlend cohost. Resident dad. Extroverted introvert. Wants to see the Snyder Cut. Managing Director at CinemaBlend.
Your Daily Blend of Entertainment News
Thank you for signing up to CinemaBlend. You will receive a verification email shortly.
There was a problem. Please refresh the page and try again.