Kristin Kreuk Testing As Tom Cruise's Other Mission: Impossible 4 Sidekick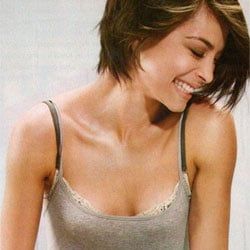 Now that the role of Tom Cruise's young male sidekick in Mission: Impossible 4 has been filled by Jeremy Renner, it's time to start filling the obligatory girlfriend role. Wait, no, apparently this movie may actually have a female character who's given more to do than simply be a damsel in distress. Word is they're looking for someone to play a young female operative, not a stay at home mom.
Deadline says the M:I production is testing actresses for the fem-sidekick part and Lauren Germain, Paula Patton, and Kristin Kreuk are all in line outside M:I4 director Brad Bird's office. You're probably at least marginally familiar with Kristen Kreuk, since she spent so much time mooning over Superman as Lana Lang on Smallville. She tried her hand at career in action movies recently, but it didn't go as well as her career in skincare commercials. Kreuk's stint as Chun Li in the last Street Fighter film was pretty terrible, though to be fair, through no fault of her own. Landing a major role in a Mission: Impossible film would be a big deal for her.
You're probably less familiar with Lauren Germain and I can't help you because I have no idea who she is and IMDB doesn't seem to either. But Deadline's article, like most of their content these days, was written by mad gibbons and there's a chance they mean Lauren German. She's a 32-year-old actress who appeared in Hostel II and has been in a wide range of smaller movie and television roles, most recently TV's Happy Town.
Paula Patton's name is spelled she had a small, small role in Precious (not a bad movie to have on your resume) and she was in Déjà vu opposite Denzel Washington. She was last seen in the Queen Latifah movie Just Wright, but don't hold that against her.
What's really interesting here is the way this cast is filling out. In the past the Mission: Impossible movies have mostly been solo affairs. In the first movie Ethan Hunt's entire team was wiped out and he's spent the past three movies doing things pretty much on his own. Now it looks like he's finally getting a real team. Ving Rhames will be back as his tech guy, and word is he may have a bigger role in the movie than ever. Jeremy Renner is on board as his male sideckick. Now they're hiring a female sidekick too. I like it. Mission: Impossible was always supposed to be a spy team anyway, somewhere along the way it got turned into a Tom Cruise vanity project. It took them four movies to do it, but maybe now we're actually getting a real Mission: Impossible movie.
Your Daily Blend of Entertainment News