Kurt Russell Leaks Hateful Eight Start Date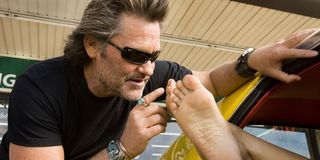 There was a terrible span where Quentin Tarantino's proposed western The Hateful Eight looked like it'd be shelved forever, mostly out of spite. But thankfully, Tarantino has forgiven fans for their voracious nature, and The Hateful Eight is poised to ride after all! And production could start early 2015, so says one of its slated stars Kurt Russell.
The former baseball player turned beloved actor who previously collaborated with Quentin Tarantino on Death Proof was talking about his involvement in the new to Netflix documentary The Battered Bastards of Baseball on the Fox affiliate out of Philadelphia. But First Showing tipped us to The Hateful Eight update Russell dropped amid talk of his dad, Portland Mavericks owner Bing Russell, and baseball.
Speaking about what's next for the still hotly sought performer, Kurt Russell said:
He also mentioned Bone Tomahawk might start in October, suggesting that early reports that The Hateful Eight might shoot as soon as November may not be possible, depending on how much of the film demands Russell on set.
It's been a mad year for The Hateful Eight. In January, the title of the Western that would play follow-up to Quentin Tarantino's two-time Academy Award-winning Western Django Unchained, was revealed. And production was being eyed for early summer. But days later, Tarantino did an about face, claiming he was shutting down the project completely because the script--which he gave to only six people--had been leaked.
From there, fans gnashed their teeth as Tarantino's intention to shoot The Hateful Eight in 70mm made headlines. Then came his ill-fated attempt to sue Gawker over sharing a link to the leaked script. While Tarantino may have over-reacted, he eventually came to his senses. First, he--and a carefully selected cast that included Kurt Russell, Samuel L. Jackson, Bruce Dern, Michael Madsen, James Remar, Amber Tamblyn, Walt Goggins, and Zoe Bell-- performed the script for a Los Angeles audience. Then in May, Tarantino recommitted to making The Hateful Eight a movie, with a suggested start date of late 2014.
The Hateful Eight is said to star those mentioned as its screenplay performance's readers, which means coordinating the schedules of Russell, Jackson, Dern, Madsen, Remar, Tamblyn, Goggins, and Bell. Little wonder then that this Western got pushed a bit to 2015. The good news is, that it's still coming.
To see Kurt Russell's interview in full, click to the next page: FOX 29 News Philadelphia | WTXF-TV
Your Daily Blend of Entertainment News
Staff writer at CinemaBlend.