Timothy Olyphant Joins Horror-Western Bone Tomahawk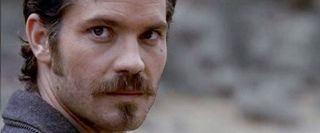 Though he's been drawing praise for leading the FX crime drama Justified, Timothy Olyphant will forever be the sneering Seth Bullock to many a fan of David Milch's gritty HBO Western series Deadwood. And admirers of the short-lived show are sure to rejoice at news that Olyphant will return to the Western milieu, playing a sharpshooting cowboy with a dark side in Bone Tomahawk.
Deadline reports Olyphant has signed on to star alongside Kurt Russell, Peter Sarsgaard, Richard Jenkins, and Jennifer Carpenter in the directorial debut of the feature's screenwriter S. Craig Zahler. A horror thriller set in the Wild West, Bone Tomahawk centers on four men—presumably Olyphant, Russell, Sarsgaard, and Jenkins—who set out into treacherous terrain to rescue settlers captured by a gang of cannibalistic cave-dwellers that live outside the borders of established civilization.
The film is slated to shoot next spring in New Mexico, though it's unclear on where the movie will be set. I can't help but wonder if Zahler's inspiration from the film came from the notorious Colorado Cannibal, Alfred Packer, who was said to have murdered and eaten his traveling companions during the winter of 1873-1874.
It's hard to know what to expect from Bone Tomahawk. Horror-westerns are sort of a wild card, as is Zahler himself. His only previously produced screenplay is the little-known horror-thriller Asylum Blackout, though buzz is building around the screenwriter since he sold the spec script The Big Stone Grid to Sony,which had Michael Mann interested. Personally, I'm hoping that Zahler stays true to Westerns' typically stony tone, building a slow-burn style of scares. But when there's cannibals involved, it's easy to fall pray to the sensationalistic.
Staff writer at CinemaBlend.
Your Daily Blend of Entertainment News
Thank you for signing up to CinemaBlend. You will receive a verification email shortly.
There was a problem. Please refresh the page and try again.