The Latest Name Linked To James Bond Is A Head Scratcher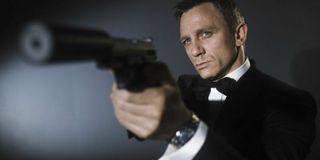 Arguably no other cinematic character has a legacy as long and enduring as that of James Bond. The British secret service agent has undergone numerous evolutions over the years, going from a misogynist pig who knows how to get the job done, to a campy machine gun toting superhero, to a grounded, damaged human being. No one can play the part forever, and with Daniel Craig's tenure seemingly coming to an end, it now looks more and more like we will soon have a new 007 on our hands very soon. A new name has just come up in the hunt for the tuxedo wearing, martini swilling cinematic badass, and it's not one we would have expected at all.
According to a new report from Deadline, it appears that British actor Jamie Bell has met with longtime 007 producer Barbara Broccoli to discuss the possibility of taking over the role of James Bond at some point. Bell has a working relationship with Broccoli from their time together on Film Stars Don't Die, and he coincidentally once portrayed the brother of current James Bond, Daniel Craig, in the 2008 WWII drama Defiance.
At 30-years-old, Jamie Bell has already appeared in a fair number of television and film projects. From AMC's Turn: Washington's Spies to the recent cult favorite Snowpiercer, he's proven that he can take on numerous types of roles – both physical as well as dramatic. Perhaps his most notable recent role came in the form of The Thing in FOX's deplorable Fantastic Four, which hit theaters last summer. He has several action films to his name, but his work on the next James Bond movie would mark his first ever time headlining a film in earnest.
At first glance, Jamie Bell seems like an incredibly interesting (read as: "weird") choice for the role of James Bond. Considering the names that have recently been thrown around for the part by fans – such as Tom Hiddleston, Damien Lewis, and Idris Elba – he doesn't necessarily fit the mold of what fans might expect from the character. He's considerably young for the part, but by the time his film gets made he would be older than George Lazenby at the time of On Her Majesty's Secret Service's release. We're not doubting his skill as an actor, but this news opens up questions as to whether or not he fits the Bond mold.
Of course, at the end of the day, plenty of actors will meet for the role of James Bond. With the next installment in the 007 franchise still seemingly a long way off, we likely won't know who will don the iconic tuxedo and Walther PPK for quite some time. We here at Cinema Blend will keep you up to date with any relevant casting information as it becomes available to us.
Your Daily Blend of Entertainment News
Originally from Connecticut, Conner grew up in San Diego and graduated from Chapman University in 2014. He now lives in Los Angeles working in and around the entertainment industry and can mostly be found binging horror movies and chugging coffee.
Your Daily Blend of Entertainment News
Thank you for signing up to CinemaBlend. You will receive a verification email shortly.
There was a problem. Please refresh the page and try again.