New Lawless Infographics Breakdown Bootleggers And The Bad Girls of Prohibition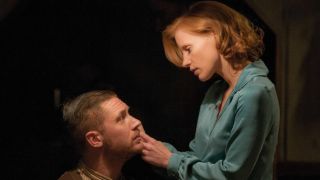 (Image credit: Annapurna)
For many movie fans, Australian auteur John Hillcoat's latest, Lawless, is an automatic draw thanks to its remarkable cast stuffed with some of the hottest young talent from Tom Hardy, to Shia LaBeouf, Jessica Chastain and Mia Wasikowska. For fans of the Western genre, Hillcoat's attempt to bring the genre's conventions into a Depression-era tale of bootlegging gangsters is intoxicating. And to attract others, The Weinstein Company is looking to make history come alive with a series of enlightening and entertaining infographics and games.
First came a graphic that detailed the weapons of choice of three of the film's figures. The second was a cheeky nod to our current DIY-obsessed culture that provides some background on Moonshine as well as a brief tutorial on how to make it. And now, TWC is offering new insight into the leads of Lawless, beginning with Virginia bootleggers Forrest Bondurant (Hardy), Jack Bondurant (LaBeouf), and how they stacked up against some of the most notorious names in Prohibition-era crime, Bugsy Siegel and Al "Scarface" Capone.
Next up, take a look at Maggie and Bertha, two tough dames who aid the Bondurant Brothers on their Lawless exploits, and see how they compare to two infamous female contemporaries, Bonnie Parker and Helen Morgan.
If all this has you itching for this gritty crime drama, you might want to try your hand—or trigger finger—at some of the Lawless-inspired web games. You can see if you're as bad as a Bondurant by drawing guns on Main Street, or brawling at their saloon with the help of some bloody brass knuckles. If your tastes run less to violence and more to hooch, try out their Moonshine Challenge. You can even divine your own Lawless-styled nickname following a slang-centered quiz. To that end, I'll henceforth be known as Kristy 'Triggers' Puchko, who's got moxie in spades!
Lawless will make its stand in theaters on August 29th. For more about the movie, including character posters check out our Blend Film Database.
Your Daily Blend of Entertainment News
Staff writer at CinemaBlend.