Lea Thompson Joins Left Behind Reboot As Nicolas Cage's Wife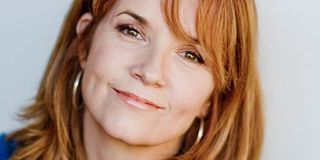 Who will stand with Nicolas Cage as the world comes to an end? Turns out Lea Thompson. THR reveals the Back to the Future star has signed on to play Cage's wife in the in-production reboot of the Rapture-centered drama Left Behind. Thompson joins a cast that also includes One Tree Hill star Chad Michael Murray, Big Love's Cassi Thomson, Hall Pass's Nicky Whelan, The Blind Side's Quinton Aaron, and pop star Jordin Sparks.
Between Seth Rogen's This is The End, to Simon Pegg's The World's End, and lesser-known laffers like the sharp satire It's a Disaster and the forgettable Anna Kendrick vehicle Rapture-Palooza, comedians have had their fun with the end of days, but stunt man turned director Vic Armstrong is taking this topic seriously with his adaptation of the wildly popular book series of Jerry B. Jenkins and Tim LaHaye. The story of these books that have sold more than 65 million copies focuses on what would happen to those left behind if the Biblical prophecies of the Rapture came true. Essentially, what if the God called all those he felt worthy to heaven bodies and all, and abandoned the rest of mankind to face the literal end of the world with all its chaos and rampant destruction? (Notably This is The End and Rapture-Palooza also dealt with this conceit, as will the upcoming HBO series based on Tom Perrotta's fantastic book The Leftovers.)
The Left Behind books were first adapted back in 2000 with outspoken evangelical Christian Kirk Cameron as its headliner. But as that was a video release with no names aside from the former child star, this Left Behind is expected to surpass the success of the original.
Posited to be the first in a trilogy, Left Behind has Cage playing Rayford Steele, a jumbo jet pilot who has the tricky task of calming down his passengers when all hell breaks loose (possibly literally). Lea Thompson will play the wife he seeks to find in the wasteland of the world with the help of his daughter Chloe, played by Cassi Thomson. Fittingly former TV teen heartthrob Chad Michael Murray will take on the role of Buck Williams, which Growing Pains's Cameron formerly played. While facing the end of the world can't be easy, I imagine it's easier with your family by your side. I mean, as long as you got each other.
Left Behind is now shooting in Baton Rouge, Louisiana. But you can check out its brand new teaser poster below.
Your Daily Blend of Entertainment News
Staff writer at CinemaBlend.